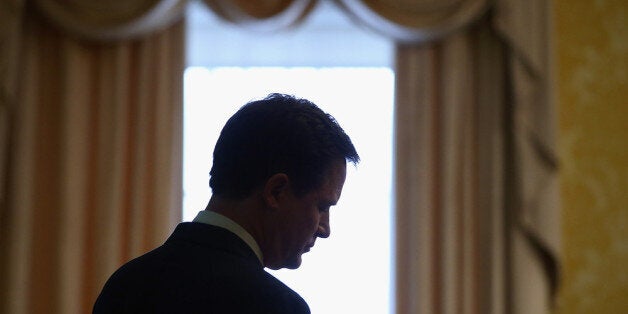 Nick Clegg will today issue a rallying call for party unity during the opening of the Lib Dem conference in Glasgow.
The plea will follow a senior Liberal Democrat publicly calling for him to resign and the resignation of a senior party member.
Clegg will today urge his party to treat each other "honestly and with respect" in a call for members to be proud of their record in government.
The comments come less than a week after former minister Sarah Teather said she was quitting as a Liberal Democrat lawmaker because the coalition government's policies on welfare and immigration made her "catastrophically depressed."
But Clegg has insisted his party should feel nothing but pride.
"When the debates are over and the speeches have finished I want you to join me in getting back out there and telling everyone this: We are the party of fairness. We are the party of freedom. And, yes, we are the party of jobs," he will say.
"We decided, together, to go into government. People who don't understand us like to call debate division. I think it's debates that give us our unity."
Earlier this week he argued the party's poor poll ratings mean Clegg should be replaced by Cable.
"You've got to be frank that his ratings are down at levels which if you go back were only seen by Mrs Thatcher shortly before she left and Michael Foot. It's nothing personal, you've got to look at the facts."
But the senior Lib Dem peer has been branded an attention seeker who failed to lift a finger to help during the Eastleigh by-election by former party leader Paddy Ashdown.
"I saw a wonderful tweet today on the subject, which says 'in autumn the leaves fall, the swallows leave and Matthew Oakeshott flaps in squawking from cloud-cuckoo land'," he said.
Clegg, too, dismissed Oakeshott's criticisms of his leadership. The deputy prime minister told LBC radio on Friday morning: "He tends to always do so like clockwork at this time of year. When it's conference and the weather turns bad, up pops Matthew Oakeshott with some disobliging remarks about me."
An unpublished internal party poll revealed the party has haemorrhaged support since the formation of the coalition Government.
A survey of the party's supporters showed nearly half believed Clegg was taking it in the wrong direction and the deputy prime minister acknowledged this week on LBC Radio that it was "unlikely" his party would win a majority at the next general election.
A YouGov poll published on the eve of the Lib Dem conference in Glasgow also showed the party continued to trail behind Ukip, in fourth place in the polls - garnering just 8% of public support compared to 13% for Ukip.
Popular in the Community