Nick Clegg has unveiled an ambitious £600m plan to give every infant schoolchild in Britain a free school meal. Speaking on Tuesday, the Deputy Prime Minister has made the scheme, which will save parents about £437 a year for each child, his key announcement of the Liberal Democrats' conference in Glasgow.
The measure, which will come into effect next September, is aimed at helping families who are feeling the pinch from the rising cost of living but will also have education and health benefits, Clegg said. The announcement was agreed with the Conservatives under a deal to allow them to press ahead with their plans for a tax break for married couples, a policy Clegg has ridiculed as "Edwardian drivel" and which Lib Dem MPs will abstain on in the Commons.
The free school meals plan will ensure a hot lunch is available to all children in reception, year 1 and year 2 - pupils aged between five and seven - and follows a study produced earlier this year for the Department for Education which showed the move produced considerable benefits.
Clegg said: "My ambition is that every primary school pupil should be able to sit down to a hot, healthy lunch with their classmates every day. Millions of parents across the country are feeling the squeeze. Over the course of a year families spend over £400 lunch money for each child.
"I am determined to do all we can to help put money back in the pockets of these families. We will start with infant school pupils because teaching healthy habits young, and boosting attainment early, will bring the biggest benefits. Universal free school meals will help give every child the chance in life that they deserve, building a stronger economy and fairer society."
A senior party source said the policy was championed by the Lib Dems and was part of a "straight-up deal" with the Tories, who are expected to announce their marriage tax plan in the Autumn Statement at the same time as funding for
the free school meals proposal is set out. Clegg will use his conference speech tomorrow to highlight the different priorities of the two governing parties, telling activists he would like to go further and provide free meals to primary children too.
He will say: "For the Liberal Democrats, this is a first step: my ambition is to provide free school meals for all primary school children. Another reason we want to get into Government again next time round. The Conservatives, on the other hand, have made it clear that their priority is to help some families over others, with a tax break for married couples. A tax break for some, funded through the taxes of others. That tells you everything you need to know about their values.
"We, however, will help all families in these tough times, not just the kind we like best, by helping their young children get the best possible start in life - and that tells you everything about ours."
The Government will also end an anomaly to ensure that disadvantaged college students will be entitled to free school meals on the same basis as their counterparts in school sixth forms. The School Food Plan published in July recommended that the Government should begin rolling out free school meals to all children in primary schools. It found that in areas where the scheme had been piloted students were found to be two months ahead of their peers elsewhere.
Between 3% and 5% more children reached target levels in maths and English at Key Stage 1 - a bigger boost than the introduction of the compulsory literacy hour in 1998 which yielded a 3.6% rise. The study found academic improvements were most marked among children from poorer backgrounds and there was a 23% increase in the number of youngsters eating vegetable and an 18% drop in those consuming crisps.
All children in infant schools will benefit - including Clegg's youngest son, four-year-old Miguel - with the party keen to portray the move as an effort to help all families meet the rising cost of living. The announcement was welcomed by charities who had campaigned for the measure.
Children's Society chief executive Matthew Reed said it was a "historic step forward in the fight against child poverty" and "clearly shows that the Government is recognising the hardship that thousands of families are facing".
Anne Longfield, chief executive at 4Children, said: "Providing a nutritious, hot lunch for all infants in primary school promotes positive eating habits and helps to ensure that children are able to concentrate and perform well in the classroom. Importantly, helping in this way should provide some welcome relief to the finances of those families with young children who we know have been hit hard by the economic downturn. Providing free school dinners for all should also get over the stigmatisation that prevented hundreds of thousands of eligible families claiming in the past - a particular problem in some of the poorest, inner city areas of England."
The scheme only applies to England but the Lib Dems urged the devolved nations to use the funding made available to them as a result of the move to implement similar measures. The party will hope the announcement will draw attention away from a rift over the future of the coalition after Business Secretary Vince Cable suggested it was "certainly possible" the alliance could end in the months leading up to the 2015 election.
Treasury Chief Secretary Danny Alexander insisted that the coalition would last for the duration of this Parliament and dismissed Cable's concerns about the state of the economy and housing market. Alexander indicated that a break-up of the coalition could put the recovery in jeopardy and the Lib Dems were "not going to walk away".
He told Sky News: "This coalition will continue until the end of this Parliament, as we promised, for the very simple reason that we have a very big job to do to clean up the economic mess that Labour left behind and to entrench the recovery that we are starting to see, to make sure that we create the jobs in this country that need to be created, that we deliver the big tax cuts for millions of working people that we promised, that we continue the process of sorting out the financial system."
The Chief Secretary told BBC1's Breakfast the recovery was "lasting and sustainable" and "I don't see any sign of a housing bubble".
But Alexander stressed that there could be no "free spending bonanza" in the next parliament, even if the coalition's target of eliminating the structural deficit by 2017/18 was met. In the conference hall Alexander won support for his plan to end round-the-clock patrols by the UK's nuclear armed submarines, seeing off an attempt by grassroots activists to push for unilateral disarmament.
He also indicated that higher taxes for the very wealthy will be a central plank of the Liberal Democrats' general election manifesto in 2015. Alexander said proposals for a mansion tax, restrictions on pension tax relief and increases in capital gains tax would ensure the wealthy "contribute the most".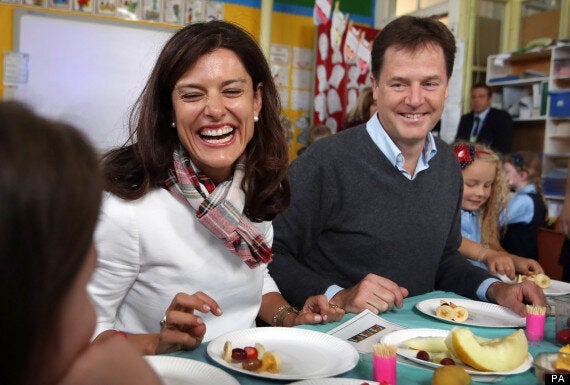 Nick Clegg and his wife Miriam at conference
One of the co-authors of the School Food Plan, Henry Dimbleby, said he was convinced that all three major parties would promise free school meals for all primary school children in their manifestos. He told BBC Radio 4's PM programme: "Having spoken to Stephen Twigg, Ed Balls, the Lib Dems and Michael Gove, we know that all of them think that free school meals for all children in primary schools are a good idea, so I'm pretty convinced that it will be in manifestos and this will be the first step of a roll-out."
Dimbleby, who co-founded the Leon restaurant chain, described today's announcement as "a massive step". He said: "I'm absolutely buzzing today, this is a groundbreaking moment for schools in this country. "If you look at the issues - 20% of children are obese by the time they leave primary school, but what's more interesting (is) when you go into these schools that have universal free school meals is the benefit to achievement.
"It changes the whole culture of the school - you have teachers sitting with children eating together, there's no more 'us and them'. And what's interesting is it actually benefits academically the children, the poorest children, even those who have free school meals already benefit from this change in culture. It's a massive step, hopefully it will be the first step on the way to free school meals for everyone."
Shadow education secretary Stephen Twigg said: "After three years of broken promises and empty words, people have come to judge the Lib Dems on what they do, not what they say. They talk about helping families but they will have taken up to £7 billion a year of support away from children by 2015; they talk about helping with school meals after supporting the Tories in scrapping Labour's plans to extend free meals for school kids. You can't trust a word the Lib Dems say."
The Lib Dems estimate 1.5 million more children will now receive free school meals, on top of the 400,000 who are already entitled to them. The GMB union's national secretary Brian Strutton described the announcement as a "welcome first step" and called on Labour to commit to free school meals for all primary school children.
He said: "GMB represents most school kitchen staff and we have been campaigning for universal free school meals for several years. Today's announcement is a welcome first step but to be effective free school meals must apply throughout primary schooling. GMB hopes this will be a Labour commitment for the next election."
The lead association for catering in education, LACA, described the move as a "huge step forward". LACA's national chair Anne Bull said: "LACA is absolutely delighted by the announcement that all infant school children aged five to seven will receive free school meals.
"It also provides a huge boost for the school catering industry and will be very welcome news for school food providers. We hope that funds will be made available to ensure that all schools have the necessary facilities to provide hot nutritious meals to every pupil in England. This is a huge step forward and will make a massive difference for children in terms of health, attainment and social mobility. There have been multiple reports in recent weeks on the financial difficulties faced by families and the impact that this has had on children's diets. This announcement will be a great relief to those across the country who are struggling to make ends meet, with initial estimates suggesting that families will save on average £400 per year per child."
Robert Oxley of the Taxpayers' Alliance described the policy as a "conference gimmick". He told Channel 4 News: "What you've got here is a situation where those on low and middle incomes are effectively paying for a universal benefit for more affluent families. Yes child nutrition is important but the way to address that isn't simply for politicians to start spending other people's money making conference gimmicks.
"I think it's quite clear that Nick Clegg has abandoned his objection to universal benefits, and benefits for the rich, and just decided to throw money at the problem rather than actually addressing it from the root cause."
Carmel McConnell of the charity Magic Breakfast told the programme: "Well-fed children who go on to a great education and are well is a great investment for this country. It's beyond party politics and I'm delighted that Clegg has built on the work of Henry Dimbleby and John Vincent, the School Food Plan, that was published in July, and I was on the expert panel. I'm very pleased to say that we've built a consensus across the whole school food movement."
John Vincent, co-founder of the Leon restaurant chain and one of the authors of the School Food Plan said the announcement was "brilliant". He said: "I am in Ethiopia right now, and frankly I cried when I heard this news. This is ground-breaking stuff. It's brilliant news for anyone interested in the health and education of children and the thousands of people who have been involved in contributing to the School Food Plan. This was the only Government action outstanding from when we launched it in July. It will help revolutionise our children's diets and means that millions more will have access to healthier, tastier food, making them happier, more fulfilled and better at concentrating through the day."
He added: "At the start of the school food plan project, we imagined a new, golden age of school food, where well-trained, fulfilled cooks serve flavourful, fresh food to at least 70% of all pupils. With today's announcement we are one big stride closer to that ideal."
Mark Littlewood, director general of the Institute of Economic Affairs condemned the plan. He said: "This is an enormously bad use of public money. Not unreasonably, the Government already ensures that those in need have access to free school meals, so it beggars belief that we are now going to see a policy instated which will subsidise the children of affluent families. If the Government meaningfully wants to ease the burden of rising living costs then they would be better placed to introduce a £437 tax cut each year and give parents some choice."
Popular in the Community