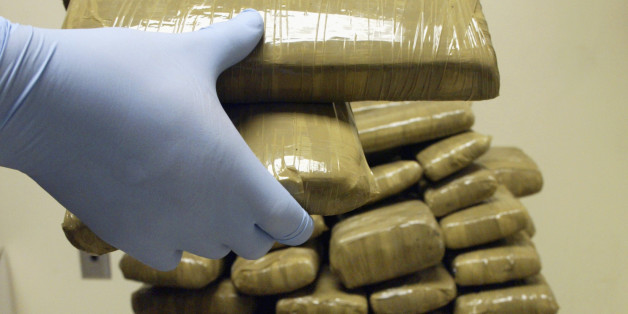 Getty
Good news for drug smugglers targeting Britain - the UK border agency has managed to delete more than 649,000 potential alerts on banned goods arriving in the country last year from its system.
The bungle has meant staff at the border have been significantly hindered in their ability to seize banned goods and arrest smugglers, the Chief Inspector of Borders and Immigration John Vine said.
Shadow home secretary Yvette Cooper has called on Theresa May to "stop drug-smuggling information being deleted and get the proper border controls in place rather than relying on divisive gimmicks like ad vans instead.
"The Home Secretary must urgently explain why hundreds of thousands of possible drug-smuggling records were deleted in 2012 without having ever been read.
Mr Vine uncovered the deletions as part of an inspection into the multimillion-pound eBorders programme, set up by the Home Office 10 years ago to prevent passengers from travelling where they were considered a threat to the UK.
The programme involved the collection of Advance Passenger Information (API) for all scheduled inbound and outbound passengers, in advance of travel - which is then checked against terror and criminal watch lists.
The inspector also found that the e-borders programme had not delivered the planned increases in passenger data collection, with only 65% of all passenger movements into and out of the UK covered, due to complications surrounding European law.
Mr Vine said: "Despite being in development for over a decade, and costing over half a billion pounds, the e-borders programme has yet to deliver many of the anticipated benefits originally set out in 2007."
He added: "I was surprised that the use of e-Borders information to "export the border" by preventing the arrival of a passenger because they had either been deported or excluded from the UK previously, was not happening.
"The Home Office should now define clearly what the aims of the e-borders programme are ahead of the new procurement exercise, and be transparent about what e-borders will deliver and by when."
The IT platform procured to test the e-Borders concept - known as Semaphore - continues to be used pending procurement of a fully capable e-Borders IT system, the report said.
Mr Vine found that records relating to drug and tobacco smuggling were deleted from Semaphore over a 10-month period due to "poor data quality and the prioritisation of immigration over customs work".
The report said: "These deletions had a significant impact on the ability of staff at the border to seize prohibited and restricted goods and deal with those responsible."
This amounted to three quarters of all the customs work completed at National Border Targeting Centre (NBTC), the hi-tech hub where watch-list checks on passengers entering and leaving Britain are carried out, his report said.
Keith Vaz, chair of the Home Affairs Select Committee, which is responsible for scrutinising the work of the Home Office, said: "The e-borders programme has been a disaster for successive governments and is a classic example of how not to procure.
"The promise for e-borders to secure our borders is simple and has been successfully implemented in Australia, South Africa and Saudi Arabia.
"Yet this ongoing saga has cost taxpayers hundreds of millions of pounds.
"It is essential for our national security that exit checks are implemented as a matter of urgency."