Oxford University's vice chancellor wants to charge significantly higher tuition fees than other institutions to make up for a £7,000 per student shortfall in funding.
Professor Andrew Hamilton argued that a university's charges should be linked to what it offers, saying that the cost of an Oxford education totals more than £16,000 per undergraduate each year.
SEE ALSO:
Tuition fees in England were tripled to a maximum of £9,000 per year in 2012.
But in his annual Oration to the University, Prof Hamilton said that for Oxford, the finances "do not compute".
"Like most universities in the country - old and new, small and large - we have set tuition charges at the maximum permissible: £9,000 a year," he said.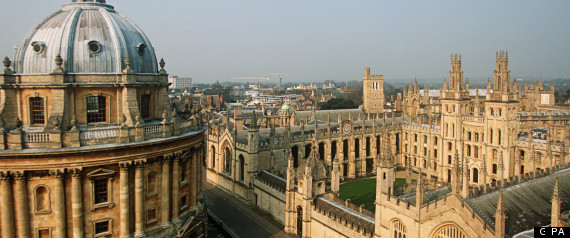 Oxford already charges the full fees
"I have read that some universities are doing very nicely thank you on that basis, comfortably covering the cost of what they provide to their students. That may or may not be the case for them, but one thing I am quite sure about is that it doesn't add up for Oxford, where the new regime of increased tuition charges for students, but greatly reduced Government spending on teaching, have done little to change the basic financial equation.
"How can they when the real cost of an Oxford education is at least £16,000 per undergraduate every year? That represents a funding shortfall of more than £7,000 a year per student. Or put another way, a University-wide gap - more of a chasm really - of over seventy million pounds a year that Oxford has to plug.
"Is that possible? In one sense yes, or we wouldn't be here today. Is it sustainable? That is a critical question."
Prof Hamilton said that the generosity of the prestigious university's donors and benefactors remains vital, and that endowments and financial gifts "matter a great deal".
But he added that this should not cover the fact that the money Oxford's Colleges spend on subsidising undergraduate education cannot be spent elsewhere, such as on resources, buildings and facilities and support for graduate students.
Outsiders might suggest that Oxford makes cuts, Prof Hamilton said, such as changing its one-to-one student tutorial system or getting rid of some of its historic collections, but this would "make Oxford something other than Oxford".
"As others have observed, excellence in most walks of life does not come cheap," he said.
"And unless we can offer the best we can't expect to get the best. Oxford has an outstanding reputation but that will not endure over time unless it continues to be underpinned by outstanding quality."
Prof Hamilton went on to say that given the differences between universities, the idea of them charging significantly different fees is not "inherently unnatural".
"What matters surely is that an institution's charges are clearly aligned with what it offers and that they are demonstrably not a barrier to student access. In other words, that robust and generous financial support remains readily available for students who most need it and, where that involves loans, that they remain repayable only after graduation and only in proportion to the ability to pay.
"As we know, Oxford's own track record on student support is already exceptional - thanks to the most generous financial package for low income undergraduates of any university in the country."
Prof Hamilton's comments come just days after new international rankings revealed that the "golden triangle" of Oxford, Cambridge and London is fast becoming Britain's last bastion of world class education and research.
At the same time, leading universities in cities such as Edinburgh, Manchester, Bristol and Newcastle are at risk of losing their reputations as being among the best in the world to study for a degree, according to the latest Times Higher Education World University Rankings for 2013/14.
Sally Hunt, general secretary of the University and College Union said: "Professor Hamilton should perhaps be applauded for going after one of the rawest nerves in politics to try and get higher education funding back in the spotlight - something we fear no party will be keen to do this side of the general election. However, higher university fees are not what this country needs.
"Professor Hamilton is correct to say our universities need more funding - we invest just 1.4% of GDP on higher education, compared to an international average of 1.7%. However, he is wrong to argue that students should pick up tab when we already have the most expensive fees in Europe. Higher education is vital to the economic future and social fabric of our country and needs sustained public investment if we are to retain our proud global status."
Nicola Dandridge, chief executive of vice-chancellors' group Universities UK, said: "The recent reforms to university funding have demonstrated the considerable costs involved in providing quality higher education for students.
"Looking to the future, we will need to look again at how universities can be sustainably funded, which may include more state funding or other sources of income. The priority will be to ensure that universities are sustainably funded while remaining fully accessible to all students, regardless of their financial circumstances."