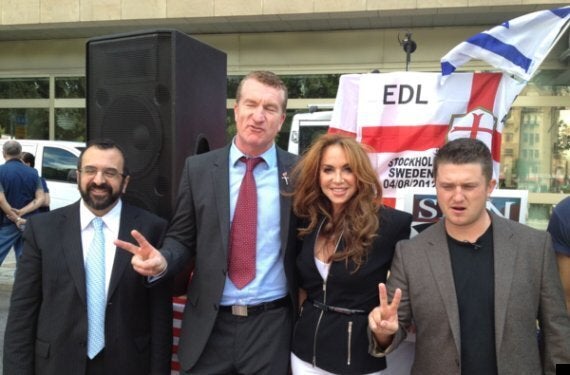 Tommy Robinson, Kevin Carroll, Pamela Geller and Robert Spencer
Robinson was defiant at a press conference last night about his departure from the EDL, insisting: "Why should I end my my relationship with them?"
Alongside a picture of Robinson, Geller, Carroll and Spencer with the caption "The Fab Four", Geller wrote that she welcomed the demise of the EDL, saying "his time is better spent working for the defense of England and human rights against Sharia and Islamization in different and more effective ways."
Geller said she had felt unable to support the EDL in 2011 because of the "neo-fascists that had infiltrated the administration of the group".
But, she continued: "When Robinson assured us that he was just as concerned about these elements as we were, and was working to root them out of the EDL, we continued to support the organisation."
"Now, over two years later, it is clear to all of us that the best way to proceed is to leave the EDL behind and move forward in new directions.
Our struggle in AFDI [American Freedom Defense Initiative] and SION [Stop Islamisation of America], which continue to stand with Robinson and Carroll, is now and has always been for the freedom of speech, the freedom of conscience, and the equality of rights of all people before the law.
"We look forward to working with Robinson and Carroll in the future as we continue this great struggle for freedom."
Robinson has announced his intention to set up a new, more mainstream, anti-Islamist movement, telling reporters he had not changed his opinion about "extreme Sharia law".