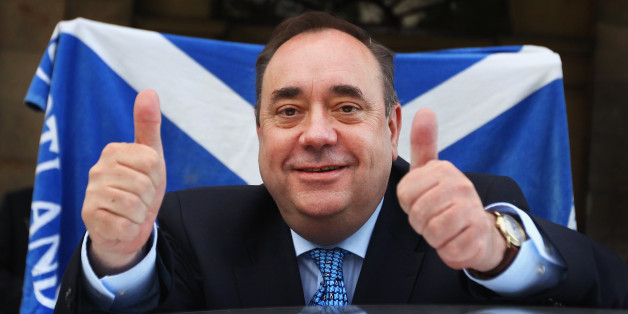 Getty
Alex Salmond spent nearly £20,000 trying to hide the fact that the Scottish government did not take any independent legal advice on Scotland's potential European Union membership as an independent country.
The Scottish First Minister launched a legal battle to overturn an order from the Scottish Information Commissioner to reveal what legal opinion he took to back up claims an independent Scotland would automatically be a member of the European Union.
However, he later backed as deputy Scottish minister Nicola Sturgeon admitted that total cost of the legal challenge was £19,452.92.
John Lamont, the Scottish Tories' Chief Whip, said: "Now, we finally know that £20,000 of taxpayers' cash was wasted on the SNP's folly of going to court to try and hide information that never even existed."
Scottish Labour constitution spokesman Drew Smith said: "Scotland isn't just on pause as it waits for next year's referendum, Scotland is now paying to hide the truth as the SNP's arguments continue to unravel."
The Scottish government said the challenge was needed in order to clarify a point of law with the Commissioner. An SNP spokesman said: "This is the height of hypocrisy from Labour and the Tories - both of whom made utterly false claims in Parliament that these costs were more than £100,000."
This comes after Alex Salmond was accused of offering "insultingly vague" plans about how an independent Scotland's military would look.