Pressure is mounting on Downing Street to launch an urgent investigation into the soaring numbers of people turning to emergency food banks, as one charity warned use had tripled in a year.
Over 350,000 people received three days' emergency food from Trussell Trust foodbanks between April and September 2013, triple the numbers helped in the same period last year.
Labour MP Frank Field, who published a report last year on youth deprivation and early intervention, called in late September David Cameron to launch an inquiry to develop an "effective anti-poverty strategy for families who draw help from the local food bank'.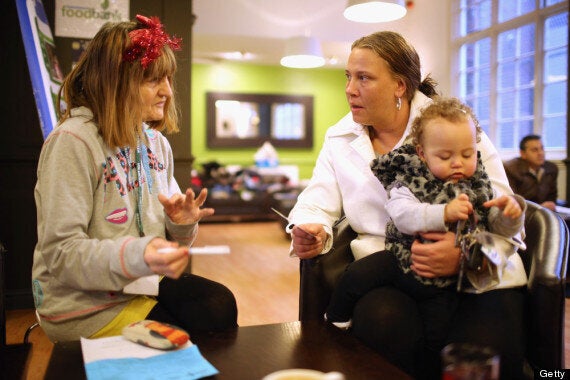 Foodbank volunteer Linda Wilson talks to Elaine Oliver and her daughter Safiyah Lesley, aged 14 months, after collecting essential food
Now the Trussell Trust has backed that call for an inquiry, writing to Cameron to that effect, and Field is set to meet the Prime Minister's office next week to discuss concerns.
Field told HuffPost UK that a cross-party parliamentary group on hunger and food poverty is to be set up imminently, with 25 MPs from government and opposition parties set to join.
"We have two choices, we let our system slip into becoming like America, where food banks are a normal part of the welfare system, or we take this opportunity for reform," Field said.
Chris Mould, executive chairman of The Trussell Trust says: 'We said in April that the increasing numbers of people turning to foodbanks should be a wake-up call to the nation, but there has been no policy response and the situation is getting worse.
"The level of food poverty in the UK is not acceptable. It's scandalous and it is causing deep distress to thousands of people. The time has come for an official and in depth inquiry into the causes of food poverty and the consequent rise in the usage of foodbanks. As a nation we need to accept that something is wrong and that we need to act now to stop UK hunger getting worse."
Evidence from Trussell Trust foodbanks shows good prices have risen by 12.6% above inflation over the past six years and rising energy prices this winter are likely to see more people forced to choose between eating and heating.
People at foodbanks have started giving back food items that need cooking because they can't afford to turn on the electricity, the Trust said.
Mould continued: "We're talking about mums not eating for days because they've been sanctioned for seemingly illogical reasons, or people leaving hospital after a major operation to find that their benefits have been stopped or delayed. It's not right that so many more people are now being referred to foodbanks due to problems with welfare, especially as much of this is preventable.
"This is not about pointing fingers, it's about finding solutions. That's why we believe an enquiry is now essential."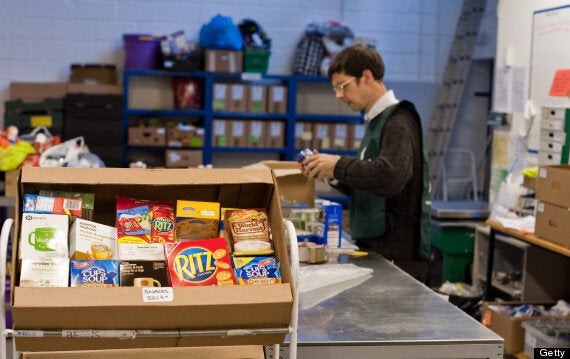 Volunteers sort through donations of food at the headquarters of the Trussell Trust Foodbank Organisation in Salisbury
Chris Johnes, Oxfam's UK Poverty Programme Director, commented: "These figures lay bare the shocking scale of destitution, hardship and hunger in the UK. It is completely unacceptable that in the seventh wealthiest nation on the planet, the number of people turning to foodbanks has tripled."
"Oxfam welcomes The Trussell Trust's call for the Prime Minister to launch an urgent inquiry into why people are forced to turn to foodbanks."
Last week, British Red Cross announced that it will provide volunteers for the first time to support Tesco's nationwide food collection for Trussell Trust Foodbanks and FareShare because it is so concerned by levels of UK hunger.
TUC general secretary Frances O'Grady described the figures as "shocking".
She said: "The Chancellor is talking up a recovery - but for who? These new figures show that, despite trying desperately hard to make ends meet, hundreds of thousands of people still can't afford to put food on the table for their families.
"Welfare reforms like the Bedroom Tax have pushed more households into food poverty."
Earlier this year, Chancellor George Osborne suggested foodbank use had increased "because people have been made aware of the foodbank service through local jobcentres".