Coalition ministers and their supporters in the press have seized upon the latest employment figures showing that the number of people in work have increased by 155,000 to its "highest level since records began in 1971".
At least half a million more people would need to get jobs before the employment rate returns to its pre-recession peak, the Office for National Statistics told the Huffington Post UK. Why 'at least' half a million? It's all due to the UK's ever-growing population. The number of people in work is indeed at the highest level ever - but so too is the number of people in the UK, full stop.
The ONS' assumption depends on the UK's population remaining constant, rather than growing by 30,000 each quarter of the year, which would increase the number of jobs people would need to get in order to return to pre-recession employment rates.
Jeremy Cook, chief economist at foreign exchange company World First told the Huffington Post UK: "The employment level would have been pushed up by the UK population growth and immigration. Politicians would always put more faith in figures like the unemployment level rather than rates as it makes them look good"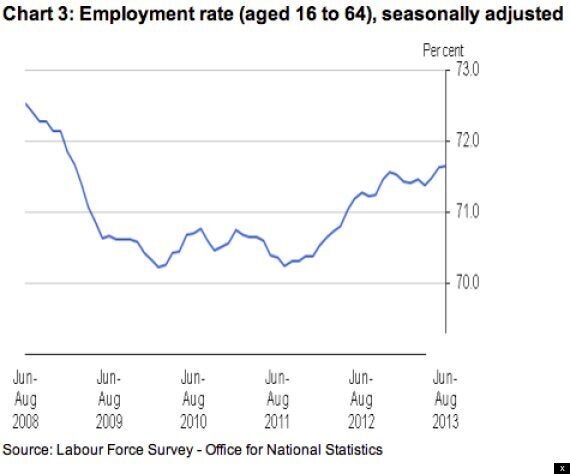 The official statistics show how fast the UK's population is growing, as it soared by 419,900 to 63.7 million between between June 2011 and June 2012.
Martin Beck, UK economist at Capital Economics, told HuffPostUK: "The government would prefer to use employment levels rather than percentages but you'd want to look at the rate, as it's still about 2% below 2008."
"It's mainly due to population growth and a bit of migration from the European Union."
Graeme Leach, chief economist of the Institute for Directors, the business group, said the recovery was "job-lite".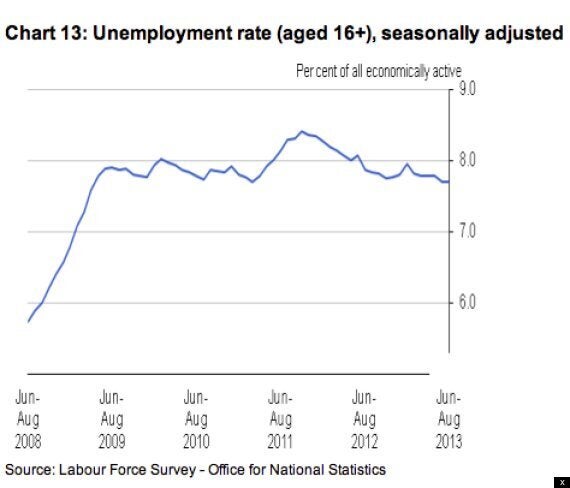 Wage growth still remains weak, as total pay for employees rose by 0.7% in the year to August 2013. However this remained below the Consumer Price Index (CPI) rate of inflation of 2.7%, so wages will still get eaten into.
Employment minister Esther McVey welcomed the figures, saying: "I think this is very positive news, because that's more than a million people who have got jobs since the general election."
The unemployment figures may seem positive to ministers, but once you drill down, the jobs recovery still remains weak by pre-recession standards.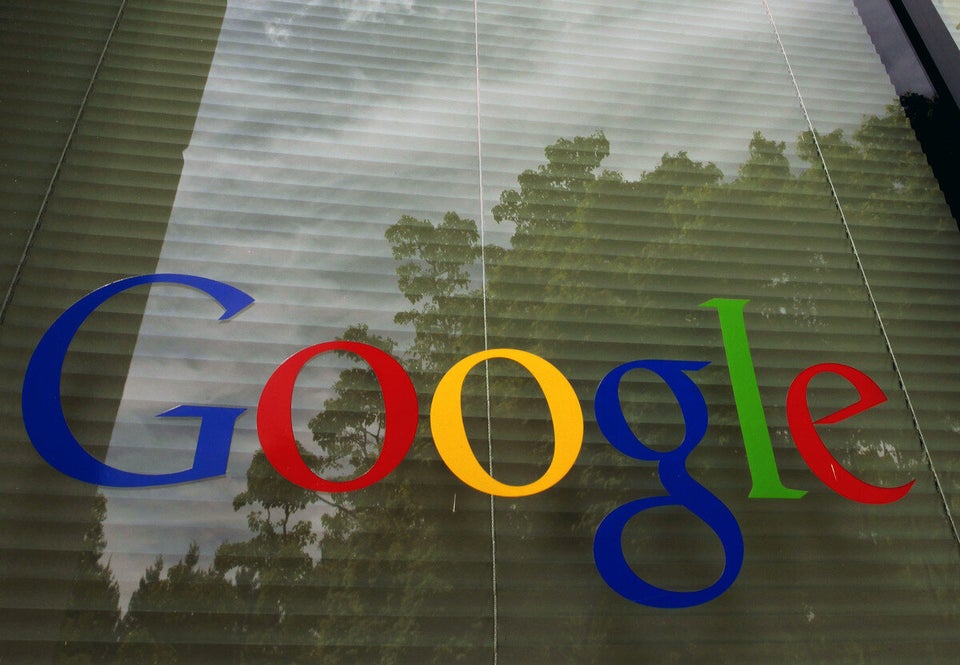 Iconic Companies Founded By Immigrants