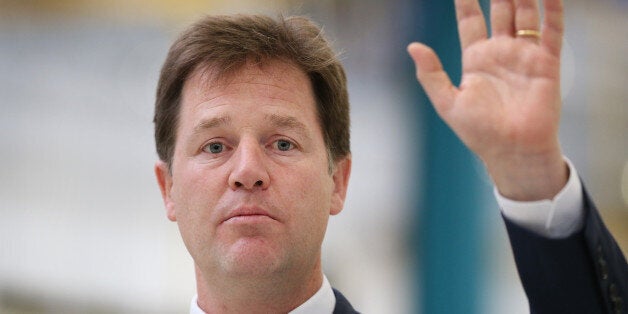 Nick Clegg has said Roy Hodgson should choose his words more "carefully" in future after the England manager had to apologise for inadvertently making a joke that some people could view as racist.
During half-time of England's World Cup qualifying win over Poland last night Hodgson is said to have compared winger Andros Townsend as a "monkey". It has been reported that one player found the remark offensive and Hodgson is said to be mortified at how it has been interpreted.
Speaking on LBC Radio on Thursday morning, Clegg said he was sure the England manager did not intend the comment to be racist.
"I don't think he should resign. He should of course apologise for any offence he has caused, It wasn't the greatest choice of words. He has apologised," the Lib Dem leader said.
"Roy Hodgson has always struck me as a very decent guy, not as someone who goes out to offend people. What little I know of the guy he feels mortified, he is obviously a huge fan of Andros Townsend."
Clegg added that while it "wasn't a great choice of words" he did not think there was any need for Hodgson to lose his job over it. "You need to chose your words carefully, however much it might derive from a joke," he added.
The supposed relevance stems from a popular Nasa joke about sending a monkey into space. Hodgson had been encouraging his players to feed the ball to Townsend more as he was having an impressive impact on the Polish side.
"Nasa decided they'd finally send a man up in a capsule after sending only monkeys in the earlier missions.

"They fire the man and the monkey into space. The intercom crackles, 'Monkey, fire the retros'. A little later, 'Monkey, check the solid fuel supply'.

"Later still, 'Monkey, check the life support systems for the man'. The astronaut takes umbrage and radios Nasa, 'When do I get to do something?'

"Nasa replies, 'In 15 minutes – feed the monkey'."
Clegg was also quizzed over whether his sons would support England or Spain should the two countries find each other playing each other in the World Cup - given they are half Spanish.
The deputy prime minister said: "I will of course do my best to persuade them not to follow Mirium [his Spanish wife] and instead support the English team but I can't predict the outcome of that. I'm not sure I rate my chances."