A university has banned pole dancing classes because the exercise is "inextricably linked to the sex industry", according to student leaders.
The decision made by Swansea University's Student Union (SUSU) has angered students and pole dancers alike, saying the comparison was "highly, highly offensive".
The SUSU originally approved the Pole Fitness Society (PFS) to become an official group of the union, but later revoked its decision as it "did not meet the criteria".
"We should not be deaf to the very real issue of pole fitness playing a part in upholding this Raunch Culture and objectification of women and girls and the impact of this on our female students."
Beth Morris, president of the PFS, said she found drawing comparisons between lap dancing and pole fitness "highly, highly offensive".
"Lap dancing occurs in gentleman's clubs; pole fitness is strictly for fitness. The board needs to take account of the context in which these classes are being taught in.
"Since the classes are purely for fitness there is therefore no link between [them] and the sex industry. It's a massive issue which everyone is outraged about."
Despite being a hit with both male and female students, the SUSU outlawed the twice-weekly classes. In a statement, the trustee board said: "Activities such as pole fitness contributes to an atmosphere where women are viewed as sexual objects and where violence against them is acceptable.
"Evidence shows that young women aged 16 to 24 are the group of women who experience the most domestic and sexual violence. This is the age of a large group of our female students.
"This activity is inextricably linked to the multi million pound sex industry and upholds and bolsters sexist attitudes and behaviours."
Cloud Aerial Arts, a fitness company specialising in "pole art" and based in Manchester, posted a blog in support of the pole dancing society and pointed out: "You claim that pole fitness is too sexually explicit and you don't want to encourage this type of behaviour at your university.
"The current (at the time of writing) cover photo for the Swansea University Dance Society (SUDS) page features girls from the society holding up placards, one of which states she is guilty of "slut dropping on the dance floor."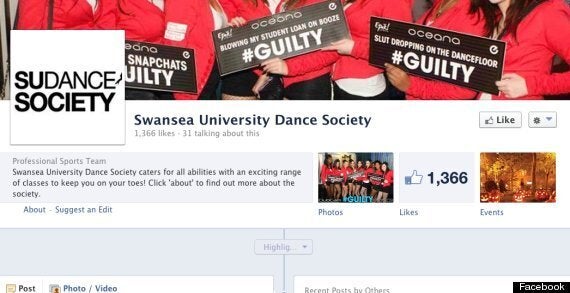 The Swansea University Dance Society's Facebook page
The president of the SUDS contacted HuffPost UK to say: "We never promoted any type of such behavior [sic] and we will never do. I completely agree that pole dance should not be banned."
It read: "We would like to question why you think the society does not promote gender equality when the group takes on both male and female members and is clear in its promotion. We also noticed you have a cheer-leading society which is still active which only takes on female members.
"We are also happy to take this to a higher level as we feel your actions are against equal opportunities and that you are merely discriminating against a society on the basis of ignorance and misplaced stereotypes."
The union has yet to respond to the letter.