When Mamana Bibi was hit by a drone strike, her grandchildren had no body to bury. They had to "collect" bits of her, scattered across the field where she had been gathering okra for a family dinner.
Amnesty has called on the UK government to refrain from participating in any way in US drone strikes that violate international law, including by the sharing of intelligence or facilities, or the transfer of specialist components.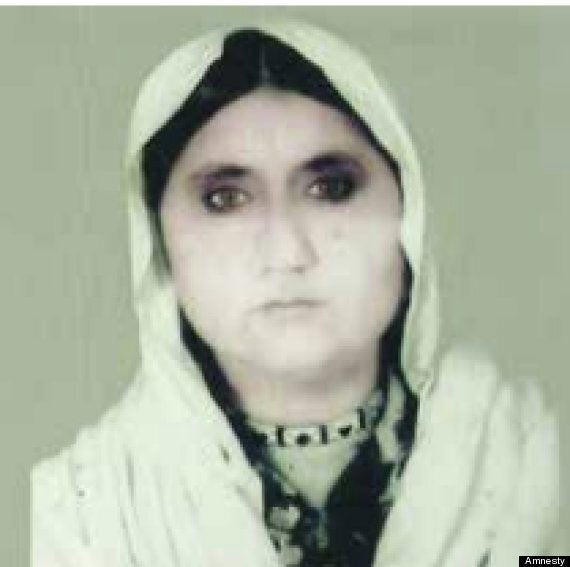 Amnesty International's evidence indicates that Mamana Bibi was unlawfully killed
Amnesty International's Pakistan Researcher Mustafa Qadri, the author of the report, said: "Secrecy surrounding the drones programme gives the US administration a license to kill beyond the reach of the courts or basic standards of international law.
"It's time for the USA to come clean about the drones programme and hold those responsible for these violations to account.
"What hope for redress can there be for victims of drone attacks and their families when the USA won't even acknowledge its responsibility for particular strikes?"
Amnesty reviewed all 45 reported US drone strikes in Pakistan from January 2012 to August 2013, and conducted detailed research on nine separate drone strike cases in North Waziristan.
It was the story of Mamana Bibi, 68, who was tending her crops in Ghundi Kala village in October 2012, which so bleakly demonstrates the horror of life under drones, and the refusal of Western powers to account for deaths of civilians.
The grandmother was killed instantly by two Hellfire missiles fired from a drone aircraft. Her three granddaughters, aged eight, seven and five were also in the field.
"She was standing in our family fields gathering okra to cook that evening," recalled Zubair Rehman, one of Mamana Bibi's grandsons, who was about 30m away at the time.
"The drone planes were flying over our village all day and night, flying in pairs sometimes three together. We had grown used to them flying over our village all the time.
"There was a very bad smell and the area was full of smoke and dust. I couldn't breathe properly for several minutes.
"The explosion was very close to us. It was very strong, it took me into the air and pushed me onto the ground," added her graddaughter Nabeela.
"I saw her shoes. We found her mutilated body a short time afterwards.
"It had been thrown quite a long distance away by the blast and it was in pieces. We collected as many different parts from the field and wrapped them in a cloth."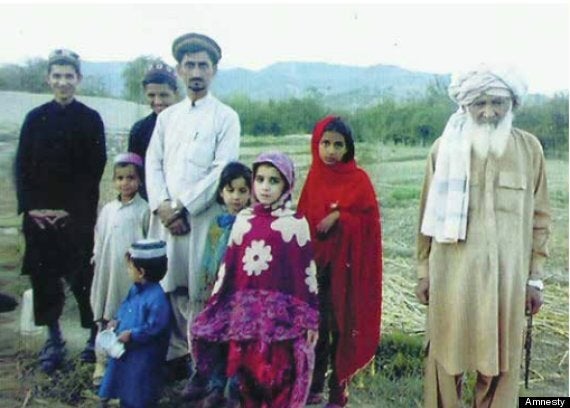 Next Tuesday, two of Mamana Bibi's grandchildren, along with their father, will attend a briefing in the US Congress
Pakistani intelligence sources told Amnesty International that a local Taliban fighter had used a satellite phone on a road close to where Mamana Bibi was killed about 10 minutes before the strike, and then drove away. Amnesty International's evidence indicates that Mamana Bibi was unlawfully killed.
International law prohibits arbitrary killing and limits the lawful use of intentional lethal force to exceptional situations. In armed conflict, only combatants and people directly participating in hostilities may be directly targeted.
Outside armed conflict, intentional lethal force is lawful only when strictly unavoidable to protect against an imminent threat to life. In some circumstances arbitrary killing can amount to a war crime or extrajudicial executions, which are crimes under international law.
Amnesty claims that during its research it found not one US official who had ever been held to account for unlawful killings by drones in Pakistan.
The report was released in a joint news conference with Human Rights Watch, which issued its own report on drone and other air strikes in Yemen.
Amnesty and Human Rights Watch are jointly calling on the US Congress to fully investigate cases documented by the two organisations, as well as other potentially unlawful deaths, and to disclose any evidence of human rights violations to the public.
Next Tuesday, two of Mamana Bibi's grandchildren, along with their father, will attend a briefing in the US Congress.
Rafiq ur Rehman, a teacher in a primary school in North Waziristan, and his children Nabila, 9, and Zubair, 13, will attend the briefing on drones called by Congressman Alan Grayso.
This will be the first time that members of Congress have heard testimony direct from civilian victims of the CIA's covert drone campaign.
"I'm looking forward to hearing from the drone strike victims," Congressman Grayson said in statement.
"When it comes to national security matters like drone strikes, it's important that we hear not only from the proponents of these attacks, but also from the victims. They have a unique perspective to share with Congress, and I hope that my colleagues will attend this important event on October 29th."
The Obama administration is continuing to block the victims' lawyer, Shahzad Akbar, from attending the briefing, by failing to grant him a visa, according to legal rights charity Reprieve.
The charity alleges that before 2010 Akbar travelled regularly to the US. It was not until 2011, when he began representing victims of CIA drone strikes, that Akbar began having significant difficulty getting a US visa.