Parts of the UK will face risks of flooding today as heavy rain continues to lash the country.
Rain is expected across much of the southern England, south Wales and south-west Scotland, along with thunderstorms and squally winds, forecasters predict.
The Environment Agency has issued more than 20 flood alerts for north England, the Midlands, the South East and Wales, and motoring organisations are urging drivers take extra care in wet weather.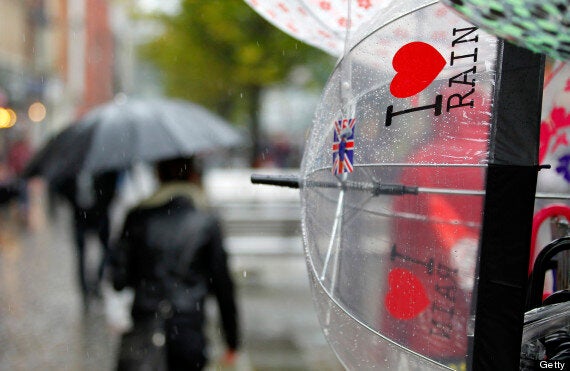 An 'I love rain' logo sits on an umbrella displayed for sale at an outdoor stall in Manchester
The Met Office has also issued a number of severe weather warnings, for the Central, Tayside and Fife, London and the South East, south-west Scotland, Lothian Borders, the South West, Strathclyde and Wales.
It warned that heavy rain of up to 30mm (1.2in) will fall over high ground in Scotland during the morning, with thunderstorms and gusts of up to 60mph along the south coast of England.
But the rain should move away as clearer weather comes in from the west later in the day, before temperatures plummet tonight to little more than freezing as the weather turns chillier.
"Wind speeds in the jet stream are likely to reach as much as 200mph this weekend The exact development and track is still uncertain, but looks most likely to cross central or southern Britain during Monday, but could yet move further north or south. Scotland could miss the worst of it," a spokesman for the Weather Channel said.
Gareth Harvey, a forecaster with MeteoGroup, the weather division of the Press Association, said: "The rain and strong gusts of wind will hang around throughout the morning before the showers ease off to the east, with sun coming from the west.
"We will still get a few showers around, mostly in western Scotland, and it could turn quite windy with gusts of up to 60mph in northern Scotland.
"There will be a cold spell tonight, and it will be chiller than late - not quite a frost but perhaps 3C (37.4F) or 4C (39.2F) in rural areas."
Heavy rains and strong winds are expected to lash the UK over the coming week.
With surface flooding likely, the RAC is warning motorists of the risk of driving through deep flood water.
The RAC's Matt Dallaway said: "While cars have improved significantly in technical terms in recent years they are still not waterproof and will break down if they are driven through deep water."
Popular in the Community