A traveller has been arrested at Canada's Montréal-Trudeau Airport for attempting to smuggle three pumpkins packed with what is suspected to be cocaine.
Border officers discovered almost two kilograms of the substance in three gourds in a woman's suitcase.
The substance is now in the hands of the Royal Canadian Mounted Police for further investigation.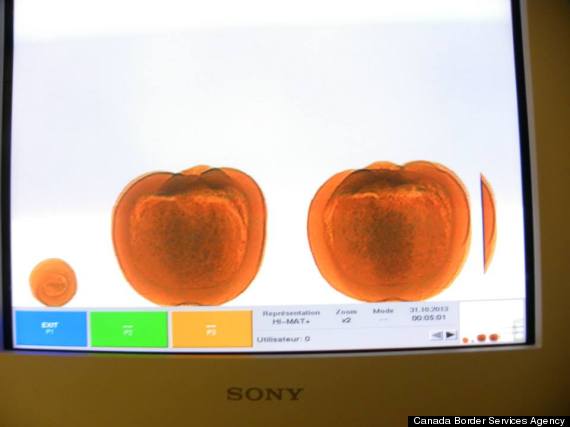 Pumpkin surprise: An X-ray of two of the suspicious gourds
"Border services officers work tirelessly to intercept narcotics regardless how they are hidden", said a spokesman said.
"This seizure helps eradicate narcotics from our community by stopping potential traffickers from using our international airports for their illicit cross-border activities."
SEE ALSO: Eels On A Plane! Or How Air Passengers Try To Smuggle The Strangest Things...(PICTURES)
Drug smuggling appears to have has entered a creative new age of late. In July, an American woman was found to have hidden a bag of crystal meth between her buttocks. It's probably worth noting Christie Dawn Harris also had a loaded gun stashed inside her vagina.
And earlier this month, a cat strapped with bags of cannabis was found sneaking into a Moldovan prison.