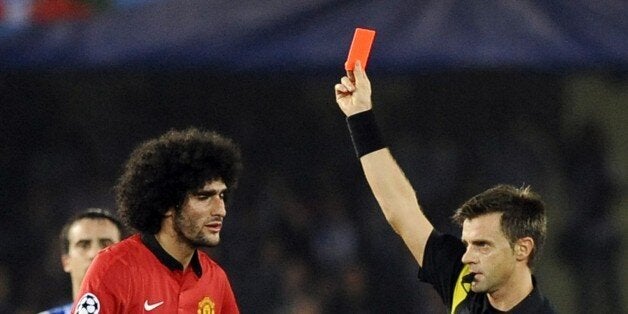 Substitute Robin van Persie hit the post twice, the second from the penalty spot after another Ashley Young tumble, and Marouane Fellaini was sent off.
Here are five talking points...
ROONEY MAY FACE MORE CHAMPIONS LEAGUE DISAPPOINTMENT
The unofficial catalyst for Wayne Rooney's unhappiness at United last season was Sir Alex Ferguson's decision to drop him for the second leg visit of Real Madrid in the last 16. There could be more bad news for Rooney following Robin van Persie and Shinji Kagawa's encouraging cameo partnership in San Sebastián.
The introduction of the Dutchman aided Kagawa, who transformed like Bruce Wayne to Batman when he switched from left wing to No.10. Even though it was just for half-an-hour, United were much more sophisticated and continental in their approach, a quality they have scarcely displayed since Cristiano Ronaldo left in 2009.
GIGGS FAILS TO MASK WASTEFULNESS
There was a moment in the first half when Clive Tyldesley began to laud Ryan Giggs, beginning a mazy dribble, for turning 40 in 24 days' time. Only Giggs gave away possession, as is his wont in the winter of his career.
Usually, Giggs will compensate for his egregious passing stats with an assist, but he was abysmal at Sociedad. His endurance is remarkable for a man of his age but his presence in the United team over the last five years highlights how underwhelming the Reds' attacking options have been.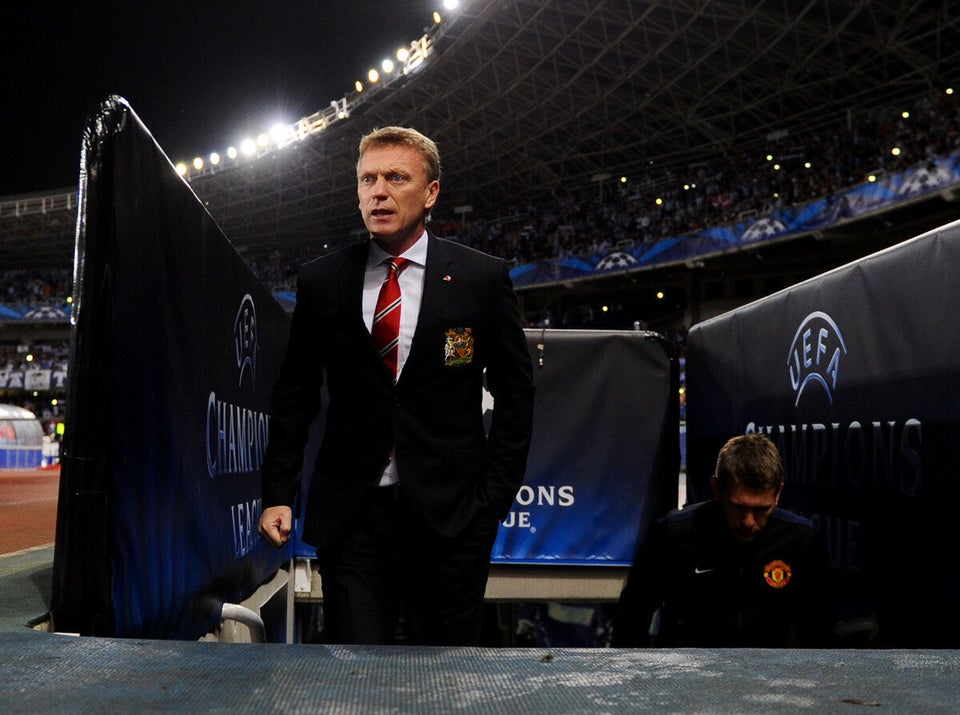 Sociedad-United
FELLAINI DEVOID OF CONFIDENCE
Most midfielders would have improved United in the summer, including Marouane Fellaini. Scepticism was inevitable due to him playing under Moyes at Everton, costing £4.5 million more than was necessary and rarely playing in defensive midfield at Goodison Park; three factors which he is hardly to blame for.
He is to blame for struggling to keep up in training and shirking headers when unchallenged, though. Fellaini's red card was inevitable after several niggly fouls, and while not terrible in Spain he is in danger of becoming nondescript at United.
Ashley Young could yet be indebted to Robin van Persie for hitting the post rather than the back of the net from 12 yards. The England winger dived again on Tuesday night - the fourth high-profile tumble in his United career - although the soporific draw might not spare him.
What is arguably more worrying than Young's serial diving is his gall to defy two managers at one of the world's biggest clubs. Young's popularity has plummeted among supporters sceptical of him before he even arrived, and it remains questionable whether he is up to the club's standards.
UNITED RELIANT ON JANUZAJ
Perhaps it is just as well Adnan Januzaj will have had eight days' rest ahead of Arsenal's visit on Sunday. Absent from the 18-man squad at the Anoeta Stadium, it will have alarmed Moyes how uninspiring United were again without him. Some of their best football this season - the final half-hours against Crystal Palace and Stoke, the opening onslaught at Fulham, and the fightback at Sunderland, all came with the 18-year-old on the pitch.
Popular in the Community