The phones of London mayor Boris Johnson and the future Duchess of Cambridge were targeted for hacking by the News of the World, according to a note disclosed at the phone hacking trial in London on Tuesday.
The jury heard that police had discovered a hand-written page among documentation belonging to private investigator Glenn Mulcaire, headed "Target Evolution". Other prominent figures on the list were PR man Max Clifford, Tom Parker Bowles, Kerry Katona and former England football manager Sven-Goran Eriksson.
Earlier, the Old Bailey heard that football star Wayne Rooney had also been targeted, with Mulcaire, who admitted phone hacking after his arrest in 2006, holding notes that included the footballer's password, Stella Artois.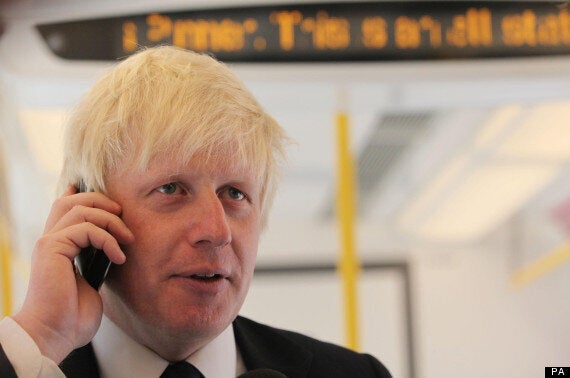 Johnson was on a list of targets for Mulcaire
More from the press association:
Angelina Jolie's British stunt double was also investigated after the Hollywood actress began her relationship with Brad Pitt in 2005, the jury heard. Former Gladiators contestant Eunice Huthart was working on the action film Mr And Mrs Smith in Los Angeles in July 2005 when her mobile phone details and pin number appeared in Mulcaire's notes.
The court heard that Ms Huthart, who is originally from Liverpool and described herself as "good friends" with Jolie in a police statement, was hacked by Mulcaire in February and March 2006. The private investigator also intercepted the voicemails of celebrity chef and Norwich City FC majority shareholder Delia Smith after she famously addressed fans over the loudspeaker during a home game in February 2005.
He investigated her husband, Michael Wynn-Jones, and their friends and associates, and even called the phone of a man who had a similar number to Ms Smith by mistake, the court heard.
Mulcaire intercepted former Liberal Democrat home affairs spokesman Mark Oaten's phone messages after the NotW revealed he was in a gay relationship in January 2006, prosecutor Andrew Edis QC told the jury. Edis said: "Mark Oaten was a candidate for the leadership of the Lib Dem Party, but at that time the newspaper detected a relationship between between him and a young man, Ian Chadwick.
"Mr Oaten was married at the time - he may still be married today, I did not mean to imply anything by that - and the newspaper eventually got the story by paying Mr Chadwick £20,000."
Mulcaire "blagged" Oaten's phone details from Vodaphone and the politician's voicemail was hacked 10 times, the court heard. It was part of what the prosecution alleges was a conspiracy senior NotW staff members were aware of and involved in.
Former News International chief executive Rebekah Brooks, 45, of Churchill, Oxfordshire; ex-spin doctor Andy Coulson, also 45, from Charing in Kent; former NotW head of news Ian Edmondson, 44, from Raynes Park, south west London; and the tabloid's ex-managing editor Stuart Kuttner, 73, from Woodford Green, Essex, are all on trial accused of conspiring with others to hack phones between October 3 2000 and August 9 2006.
Former NotW and Sun editor Brooks is also accused of two counts of conspiring with others to commit misconduct in public office - one between January 1 2004 and January 31 2012 and the other between February 9 2006 and October 16 2008 - linked to alleged inappropriate payments to public officials.
She faces another two allegations of conspiracy to pervert the course of justice - one with her former personal assistant Cheryl Carter, 49, from Chelmsford in Essex, between July 6 and 9 2011; and a second with her husband, Charles Brooks, and former head of security at News International, Mark Hanna, and others between July 15 and July 19 2011.
Coulson is also facing two allegations that he conspired with former NotW royal editor Clive Goodman, 56, from Addlestone in Surrey, and other unknown people to commit misconduct in public office - between August 31 2002 and January 31 2003, and between January 31 and June 3 2005. The case was adjourned to tomorrow.