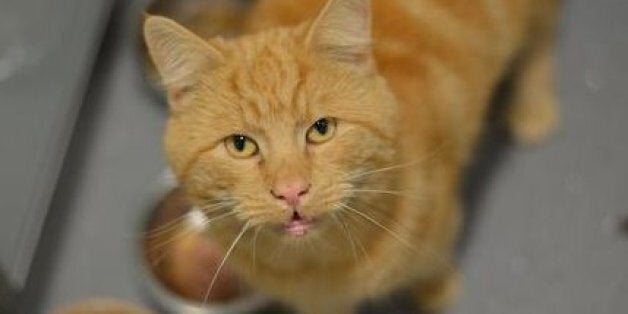 There was an unusual sight on the London Underground this week - not only did a cat board at rush hour, he also miraculously managed to find a seat.
Stunned morning commuters had to vie for a seat on the Victoria Line with an unusually furry passenger making its way to Battersea Dogs & Cats Home.
The ginger tom – who has been fittingly named Oyster - hopped on a Tube at Seven Sisters and headed south to Vauxhall - not far from Battersea Dogs and Cats Home.
Luckily, a volunteer from the charity boarded the same carriage as the male moggy and managed to coax the independent feline into an empty cat carrier she had with her.
Paige Jokovic, a cattery support volunteer at the London rescue centre, said: "I couldn't believe my eyes when I saw Oyster sitting on a seat on the tube, and I thought at first he was a teddy bear.
"Everyone around him was just staring like they'd never seen a cat before. Thankfully, I had a cat carrier with me as I had to pick my own cat up from the vets in the evening. We both took the tube to Vauxhall and I'm very pleased I was there to help him get off the tube, minding the gap, and escort him to Battersea."
Lindsey Quinlan, Battersea's Head of Cattery, said: "Oyster is very lucky to have been found on the tube by Paige who was able to bring him to Battersea. We take in cats which have been found in appalling conditions in unusual places including bins and boxes, but Oyster is a healthy, happy boy who appears to have been simply making his way to central London.
"Oyster doesn't have a microchip, so if nobody comes forward to collect him, he will be rehomed and hopefully not try to take a trip on the tube by himself again."
Popular in the Community