A father was arrested and accused of fraud after complaining to his local Tesco that he had spent £470 on an iPad that turned out to be just a box with clay lumps inside.
Colin Marsh, 47, rushed back to Tesco in Whistable to complain after discovering that the iPad he had bought there as a present for his 10-year old daughter Maddie was actually an empty box stuffed with clay.
"I took it back to Tesco, but they said they couldn't give me a refund and would need to carry out an investigation," he said.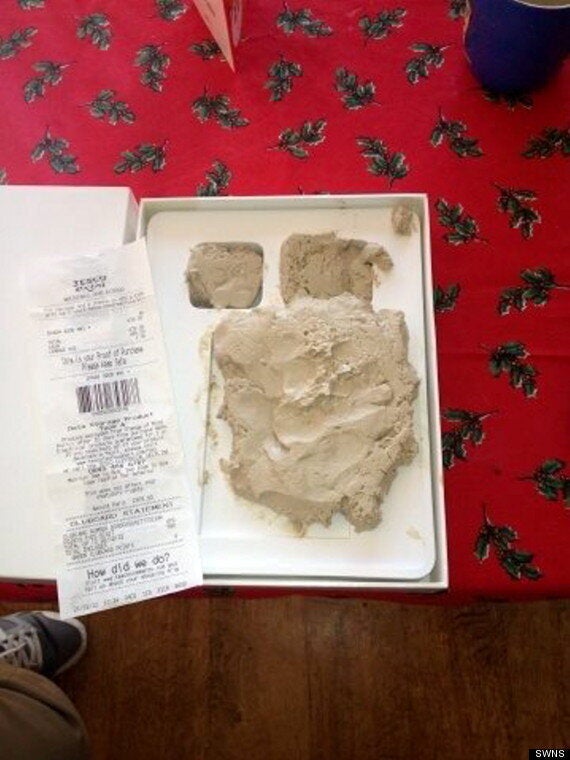 'Two days later, I got a call at about 8pm from the police asking if I could come down to the station to answer some questions. I just thought they wanted to know what had happened, but the next thing I know I'm being bundled into a cell."
Marsh, a resident of Herne Bay in Kent, added: "I just thought "how can that possibly be?". It didn't make any sense."
"I've run my own successful businesses for 22 years, and I own my own house. Why would I want to scam Tesco out of a £470 iPad?" Colin, with his wife Sam and daughter Maddie hold a replacement iPad showing the slab of clay they got from Tesco
The father-of-two remained on bail for nearly two months until police found that the tablet was activated under a different name in Wales.
"You just can't treat people like that. It's absolutely disgusting," he added.
Kent Police spokesman Jon Green said: "Mr Marsh was arrested on suspicion of fraud following information that the iPad in question had been registered in his name.
"This was investigated and as soon as it became clear that Mr Marsh had not committed any offences, his bail was cancelled and he was informed police would not be taking any further action against him."
Tesco spokesman Jack Pearson said: "We were very disappointed to learn that the product we sold to Mr Marsh had been tampered with.
"We would, of course, never knowingly have sold it to Mr Marsh, and we apologise sincerely for the problems this has caused him.
"We immediately launched an internal investigation and shared the information we gathered with the police.
"The police investigation and the actions they took are a matter for the police."