A deadly blast that tore through a Beirut street housing the Iranian embassy has killed more than 20 people, with the cultural attaché to Lebanon reported to be critically injured.
Reuters reported that the Al Qaeda-linked Abdullah Azzam Brigades claimed responsibility for the attack, with the Iranian ambassador having previously blamed Israel.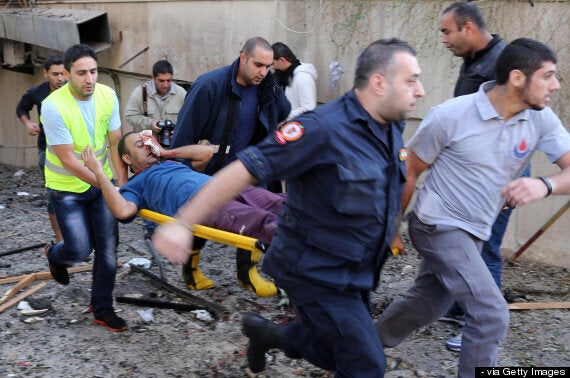 Lebanese rescue teams and security forces evacuate an injured man at the site of a blast in Bir Hassan neighbourhood in the southern Beirut
The Bir Hassan area is a Hezbollah stronghold. Lebanese television showed gory images from the scene, of charred remains and blood-splattered streets.
Iran's ambassador to Lebanon Ghazanfar Abadi said the cultural attaché, Sheikh Ibrahim Al-Ansari, died from wounds caused by the blast, but officials in Iran disputed that the diplomat had died, and said he was critically injured but alive. He had arrived in Lebanon just one month before the bombing.
Lebanon's Prime Minister-designate, Tammam Salam, condemned the explosion as "a terrorist crime which would aim to strike stability and national unity."
British Foreign Secretary William Hague said in a statement: "I strongly condemn the shocking terrorist attack on the Iranian embassy in southern Beirut today that has led to such tragic loss of life. I send my condolences to the families of those killed and injured.
"The UK is strongly committed to supporting stability in Lebanon and seeing those responsible for this attack brought to justice.
"Our Embassy in Beirut remains at a high state of vigilance. A consular team stands ready to assist British nationals."
David Miliband, chief executive of the IRC, and former Foreign Secretary, who is currently in Lebanon, said in a Twitter post:
Earlier Abadi told al-Mayadeen television Israel was behind the blast, immediately denied by Israeli government representatives. "The agents of the Zionist entity Israel are behind the blasts.
"This terrorist attack will not affect us, but it will make us stronger and more convinced of our stances."
Lebanon, though peaceful in the most part for the last month or so, has keenly sectarian tensions in the region, spilling over from neighbouring Syria.
Iran has been a key backer of Bashar al-Assad, whose Alawite minority religion is an offshoot of Shia Islam, the sect of Lebanon's Hezbollah and of Iran. Syrian rebel forces are for the most part Sunni Muslims.
On August 15, 20 people were killed in a blast in southern Beirut, and a car bomb in the same area injured about 50 people the previous month.
Popular in the Community