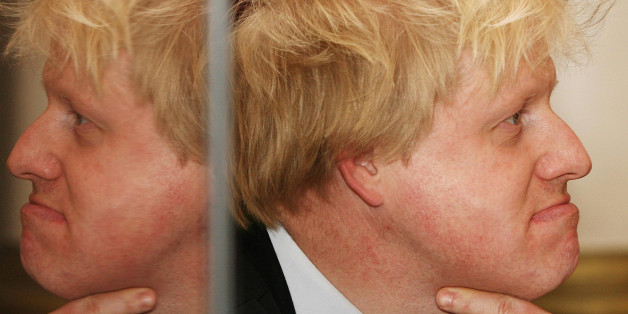 Lewis Whyld/PA Archive
David Cameron has distanced himself from Boris Johnson over the London mayor's suggestion that poor people have their own low IQs to blame for their situation.
Boris's assertion in a speech last week that inequality and envy were essential spurs to economic progress earned a sharp rebuke from Nick Clegg, who branded it "unpleasant, careless elitism", while George Osborne said he did not agree with the mayor's comments.
Speaking to reporters on his trip to China, Cameron stopped short of criticising Boris's comments but made clear that he did not share his sentiments.
"I let Boris speak for himself," said the prime minister. "I think is very important that we make sure we do everything so that we maximise people's opportunities to make the most of their talents.
"I believe in equality of opportunity. No one should be held back by not being able to get the training, education and skills that they need."
Boris triggered a furore when he noted in his speech in honour of Margaret Thatcher last week that 16% of "our species" had an IQ of less than 85, and just 2% over 130. Given that fact, he said, "the harder you shake the pack, the easier it will be for some cornflakes to get to the top".
The mayor said he did not believe that economic equality was possible, adding: "Some measure of inequality is essential for the spirit of envy and keeping up with the Joneses that is, like greed, a valuable spur to economic activity."
Cameron also conjured up a vision of a mayor with a "split personality" as he tangled up his words, telling reporters: "Everybody has their way of putting these things and I will leave Boris to talk to Boris - 'talk for Boris', not 'to Boris', he is not a split personality."
On Sunday Osborne also distanced himself from Boris. He told the BBC's Marr programme: "I wouldn't have put it like that and I don't agree with everything he said. Where I think there is increasingly common agreement about across the political spectrum is that you can't achieve equality of outcome but you should be able to achieve equality of opportunity. You should give everyone wherever they come from the best chance and actually education is the absolute key to this."
Ed Balls was, unsurprisingly, more critical. "That idea that greed is good and the poor are poor because they are stupid is pretty outdated set of views and there's rather too much of those attitudes around in politics," he said.
SEE ALSO: 10 Amazingly Successful People Who Would Fail Boris Johnson's Over-130 IQ Test