Britain will be battered by ferocious storms and floods over the next 36 hours, forecasters have warned.
Thousands of families are set to be evacuated after winds swept the country causing travel chaos and killing a lorry driver and man who was hit by a tree.
It is expected to be the worst coastal surge for 60 years.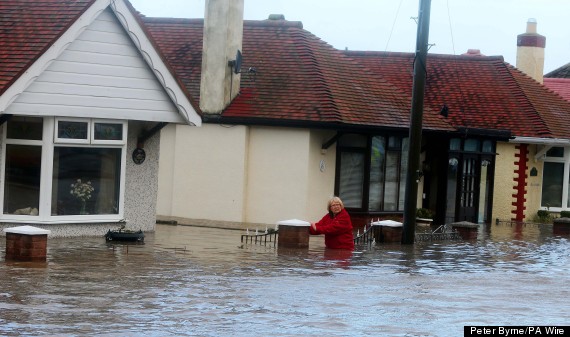 A woman stands in the flood water in Rhyl
More than 10,000 homes in Norfolk, Suffolk and Essex are being evacuated after officials warned that the lives of people in the region could be at risk from the worst coastal tidal surge for over 60 years.
The Environment Agency (EA) has issued a number of severe flood warnings - the highest category, warning of danger to life - to the east coast and north Wales as high tides and strong winds threatened to swamp the coastline.
In Norfolk, 9,000 homes are being evacuated as local officials attempt to stem the damage from the coastal surge.
A further 1,000 properties are to be evacuated in affected areas in Suffolk and some residents in Jaywick, near Clacton-on-Sea in Essex, are also being urged to leave their homes.
WATCH: Terrifying footage of a plane trying to land at Birmingham Airport
Local officials are setting up emergency accommodation facilities and handing out sandbags to help people protect their homes, police said.
Police in Humberside have also declared an emergency situation as they prepared for coastal surges from this evening.
TOP STORIES TODAY
The EA has issued more than 250 flood alerts across England and Wales, including 34 severe flood warnings which are only issued when flooding poses a "significant threat to life".
The agency said communities along the North Sea coast from Northumberland to the Thames Estuary and Kent, in addition to those on the Irish Sea coast from Cumbria down to Cheshire, could see significant coastal flooding later today and into Friday.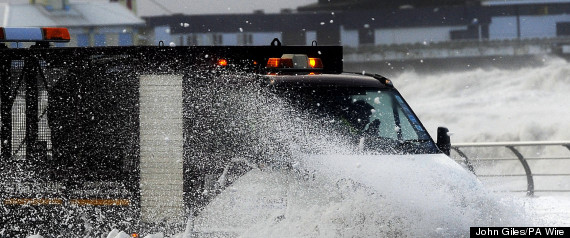 Blackpool pier is submerged
A spokesman said in some areas sea levels could be higher than those during the devastating floods of 1953 - which battered the east coast of England and claimed the lives of hundreds of people.
On Thursday morning trains were halted at their nearest stations and passengers told to disembark after Network Rail said debris on lines and damage to equipment meant it was not safe to operate any services.
A number of flights have also been disrupted by the bad weather.
Closures, fallen trees, minor accidents and incidents of flash flooding are affecting the road network in parts of the country.
Environment Secretary Owen Paterson chaired a meeting of the Government's emergency Cobra committee this morning to discuss the response to the storm.
Paterson told BBC News: "The purpose of the meeting was to make sure that all of the preparations - which we have well in advance - will work together to benefit the public."