John Lewis are on a mission to hunt down a five-year-old girl who broke a bauble in one of their stores.
But it's not quite as sinister as it sounds.
Known only as Faith, the little girl wrote an adorable letter of apology after she broke the Christmas decoration in Cambridge.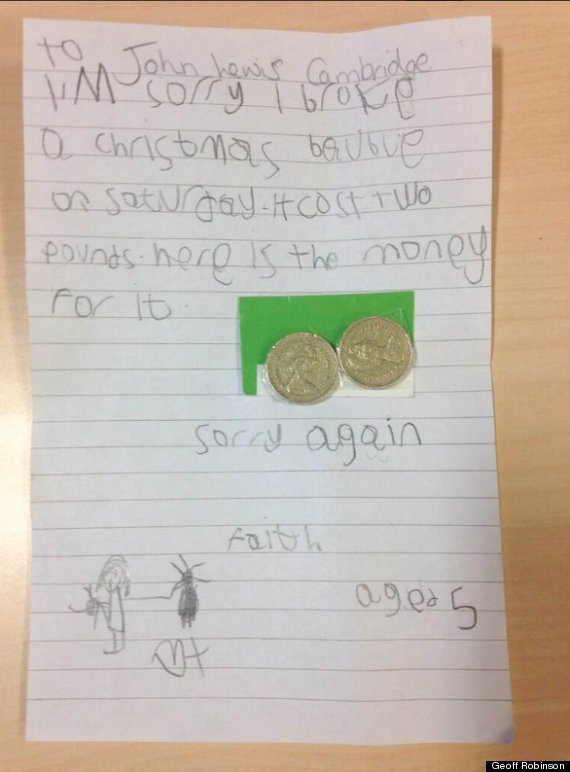 TOP STORIES TODAY
She stuck two £1 coins to the note, which she posted to the "Christmas Department" of the store, the Daily Mail said.
The letter read: "To John Lewis Cambridge. I'm sorry I broke a Christmas bauble on
Saturday. It cost two pounds. Here is the money for it. Sorry again, Faith, aged 5." The tragic bauble
Staff now want to find Faith to thank her for the gesture, and searched for her using Twitter, saying: "Are you Faith the Cambs xmas bauble breaker? John Lewis want to say thank you!"
Store manager Dominic Joyce told the Mail: "The letter arrived on Tuesday afternoon and had no return address or indication of who the young girl was. We really want to find out who she is so we can thank her.
"She visited us on one of our busiest weekends of the year and we still are unsure as to which bauble was broken. We'd like to thank her and because of her adorable letter maybe give her something from the store she would like."
Mr Joyce also tweeted: "The cutest letter sent to JL Cambridge. There is no address so we wanted to thank Faith on Twitter."
He added: "We will keep looking until we find her."