A lorry driver has died in West Lothian after his HGV toppled onto a number of cars as high winds and gales battered Scotland, police have said.
The lorry driver died at the scene while the four injured people were treated for minor injuries, when the accident occurred on the A801 one mile north of Boghead Roundabout, Bathgate, West Lothian, at around 8.10am.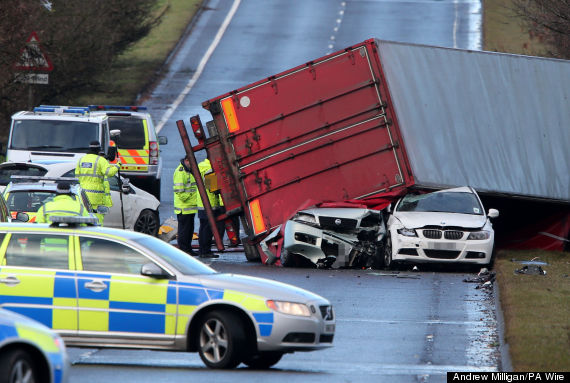 Police at the scene where HGV toppled on the A801 in West Lothian
The A801 was closed southbound at the Heatherfield Roundabout and officers appealed for witnesses.
Motorists have been warned not to travel due to ''extremely dangerous'' road conditions.
TOP STORIES TODAY
Scotland's rail network has been suspended and about 100,000 homes are without power across the country.
Transport Scotland has escalated its travel warning to stage four red, advising people to avoid travelling, particularly in high-sided vehicles.
Closures, fallen trees, minor accidents and incidents of flash flooding are affecting the road network in the south, west, central and Perthshire areas.