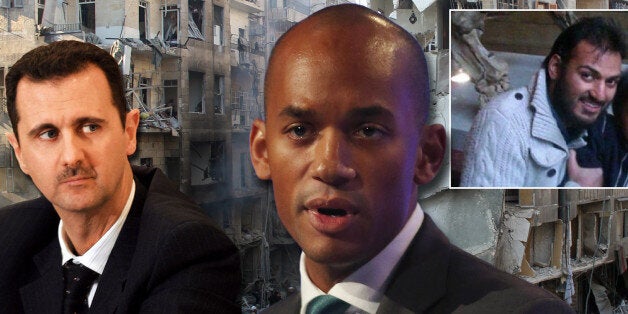 The family of the British surgeon found dead in a Syrian prison have criticised local MP Chuka Umunna for failing to join a delegation to the country to lobby for his release.
Dr Khan, who had been in a government prison for 13 months after going to the country on an aid mission, was found dead just four days before his scheduled release, as agreed by the Assad regime.
When asked what the Streatham MP had done to work on the case, Dr Khan's brother Shahnawaz Khan told HuffPost UK Umunna had written to the Foreign Office when his family had asked, but had kept his distance.
"My sister had arranged a delegation of Lords, including Lord Ahmed, to visit Syria when my brother would be freed, and she had rung him, asking him to go.
"But a member of his office said he would not go because "he doesn't want his mother in the same situation as Abbas' mother". And he was even advising many others not to go."
Umunna, the shadow business secretary who was Dr Khan's MP, put out a statement on Wednesday morning saying he had worked on the case for "over 12 months now... trying to do what I can to assist the family as they have tried to secure his release".
Umunna said he had asked to meet with Dr Khan's family to discuss the handling of this matter by the Foreign Office.
Umunna's spokesperson told HuffPost UK the MP "has done all that they have asked of him, save for going on a delegation to Syria himself.
"The advice of the Foreign Office and others has been not to travel to Syria on safety grounds.
"In light of this, Mr Umunna did not feel it would be fair on his own family to put himself at risk and travel to Syria in these circumstances. He has always been clear that whether other Parliamentarians choose to travel to Syria is a matter for them.
"With regard to Mr Umunna raising this matter in the media since Dr Khan's detention, he has very much acted in accordance with guidance and wishes of the family. He has always been careful not to do anything which may acerbate Dr Khan's situation."
Speaking to the HuffPost UK, Shahnawaz Khan said that FCO ministers would not even put their names to a missive to the Assad government, instead saying that they were "monitoring the situation".
"They never really believed he was an aid-worker, they thought he was another South Asian jihadist who had got caught up in the fighting. We luckily had a very open family relationship. We know he was there to help people, and that it is clear he was murdered. But to them, he had less value, as a British Muslim."
George Galloway, the Respect MP who had made representations to President Bashar al-Assad on behalf of Dr Khan, told HuffPost UK it was only the family who "can judge how hard Chuka Umunna worked".
The question has to be asked - and one that only a full inquiry could properly answer - is, 'did the FCO and Hague fail to properly act because they believed that Abbas was a jihadi?' I believe that there was a rush to that judgment, deeply flawed as it was.
"The best and most perspicacious comment I have heard comes from his brother Shah, who said that Abbas's case had been treated, 'as if he had been caught drinking on a beach in Bahrain,'" Galloway said. "He pointed out also that his mother, a 50-year-old who had never been out of the country, had more success in dealing with the Syrian regime than the Foreign Office or Hague.
"There is no doubt the family have been shamefully let down by the government and civil servants and there should be an independent inquiry.
"Parliament is breaking up for the Christmas recess but I intend to put down a series of questions on return in an effort to pin down Hague and the FCO over this gross dereliction."