As the UK prepares to open its borders to Romanian and Bulgarian immigrants in the New Year, the HuffPost follows one hopeful who plans to start a new life in Britain.
Ionut Dumitru Tamas has never been to the UK before, but he has two job offers already. Come January, the Romanian bartender will be waving goodbye to his parents in Cluj-Napoca, and taking the three-hour flight north west to a longed-for job in a smart British hotel.
A keen gym-goer and runner, Tamas, 23, currently lives with his parents in what he describes as a "modest" two-bedroom apartment.
He's worked as a bartender in a hotel in his home city in central Romania since leaving school, and was a semifinalist at the National Contest for maître d's. In his spare time, he says, he likes exploring the outdoors, and spending evenings watching films.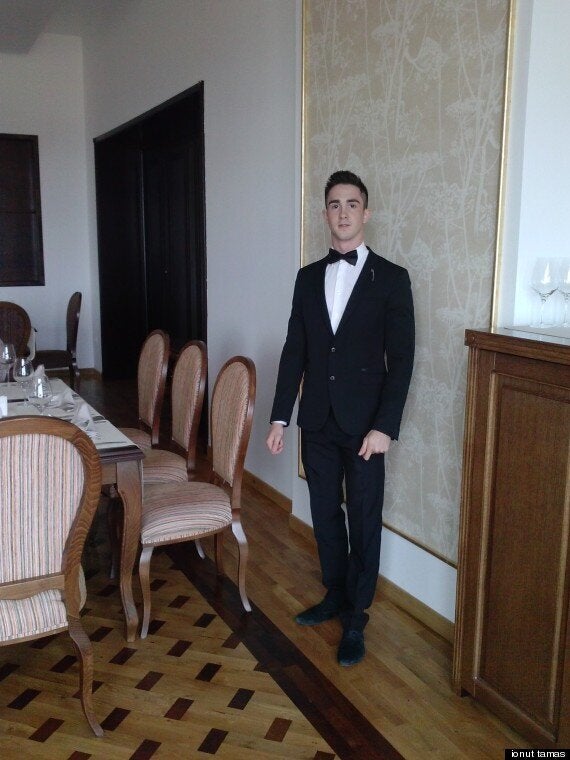 Ionut Tamas, 23, is coming to the UK for a job in January
On January 1 2014 the transition controls that prevent Romanians and Bulgarians from settling in the UK in the same way the French or Germans can will come to an end, and Tamas will be an equal EU citizen. He isn't sure which job to accept in the UK, one in Watford, or one in a small town in the west of England.
He admits that he hasn't a clue really as to where many of the places he applied for jobs actually are, but said he has a deep faith in the innate kindness and friendliness of British people toward foreigners.
"I had really no idea about what cities I should apply to work in," he said. "I know that Watford is near to London, but it may be cheaper for me to live in cities away from there. But I am very keen to visit the big cities, I want to do all the things for tourists but also just walk around and meet people."
It became apparent shortly into Tamas' conversation with HuffPost UK, that the crude and offensive stereotypes painted by tabloids of Romanians have passed him by.
He has only good opinions of his new home, and British people. "I haven't heard a great deal of negative things in the media about Romanian people, only a little in our own papers, but I think it's natural," he said.
"British people are very friendly and polite, so I'm not concerned."
"I probably started thinking about going to work abroad around a year ago, but it was a while before I definitely made the commitment to apply to agencies to get work," he continued.
"I've never been to the UK before, but it was the obvious choice. Why wouldn't I want to go there? I know that people are friendly, I think people are more tolerant and there's many opportunities there.
"I'm also hoping there will be other Romanian people there, at least at first, but I would like to make English friends. I was always interested in learning English at school too, so it was the most suitable place for me to go."
Politicians, newspapers and law enforcement officials have gone to extreme lengths to persuade people like Tamas not to come to the UK. The imminent arrivals of Romanians and Bulgarians is one of the key controversies said to be fuelling the surge in support for Ukip.
Estimates in the numbers arriving over the next few months vary wildly. A report commissioned by the UK Government in 2010 estimates that 8,000 Romanians will come to Britain in 2014. Migration Watch say 50,000 people a year are expected.
This week, the Romanian ambassador hit out at the "vilification" of his countrymen, people like Tamas, amid growing calls on the Conservative benches for Romanians and Bulgarians to be banned for five years from being given full European Union rights to live and work in Britain.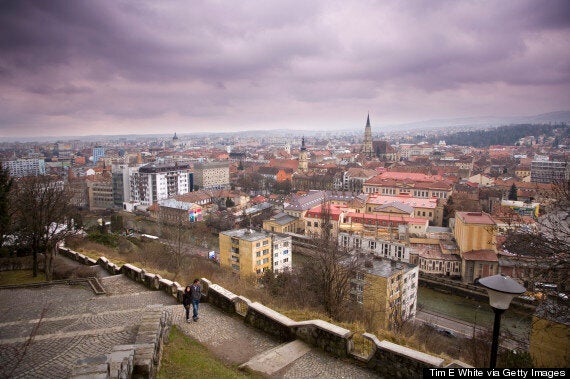 The city skyline of Cluj, Romania, where Ionut Tamas grew up
"Friends of mine are talking about going, I do expect some will follow at some point," Tamas said, but adds that some are already in other EU countries which already lifted restrictions.
Far more concerned are his parents, but not about the reaction of British people, just about the safety of their son. "My parents are worried about me going, they are concerned I won't know anyone in the country, that there will be no one for me to go to if I am in trouble.
"When I first told them, they were very upset, but I told them this is what I want to do," Tamas said.
"I think it is good for them to know that with these jobs, I have accommodation sorted in the hotel I'll be staying in. It's the right time to go, when I am young, and want to move out of home. I have always wanted to go to university, and if I earn money in the UK and everything works out, I would really love to study there, eventually."