The number of people using food banks this Christmas has tripled compared to last year, according to a charity which runs 400 across the UK.
Over the two weeks leading up to Christmas Day, the Trussell Trust estimates that its food banks have fed 60,000 people, of which one third were children. During the same period last year, it fed 20,000 people.
Food banks have shot up the political agenda after a Commons debate highlighted the huge rise in demand for their services, and exposed the deep political divisions on the issue.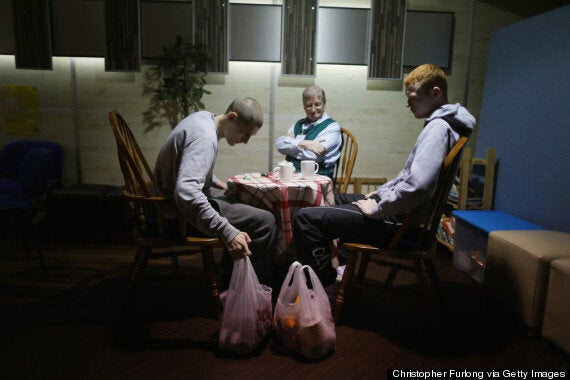 Foodbank volunteer John Mills (C) talks to two young men collecting their emergency food donation at the Rochdale Foodbank
Labour MP Frank Field, chairman of the all party parliamentary group on hunger, food and poverty, said the Commons debate was "like a football match" and that "there were no meetings of minds".
Field has repeatedly called on Prime Minister David Cameron to launch an inquiry into the rising demand for food banks.
The MP for Birkenhead said: "Food banks are an indicator of just how grim it is at the bottom.
"Here we are fumbling around trying to say what the problem is. We need to raise our game about the solution.
"We are in unchartered territory. I don't think there is any quick fix."
Since April, over half a million people have used Trussell Trust food banks, which is triple the number for the same period last year.
Based on these figures, the charity estimates that about three times as many people will have used their services over the Christmas period too.
Chris Mould, executive chairman of the Trussell Trust, said: "It is not a surprise that three times more people have used our services this Christmas compared to last.
"It is very distressing and very worrying that people don't have a decent enough income to be able to support themselves and find food on Christmas.
"For people who are on low incomes, this Christmas will be much tougher than last. Prices for food, gas, electricity, have gone up above inflation consistently throughout the year."
Mould said the coalition Government's welfare and tax reforms were partly to blame for the increasing amount of people who are turning to food banks.
However, a Government spokesman said: "There is no robust evidence that welfare reforms are linked to increased use of food banks.
"The benefits system supports millions of people who are on low incomes or unemployed.
"In fact, our welfare reforms will improve the lives of some of the poorest families in our communities with the Universal Credit making three million households better off - the majority of these from the bottom two-fifths of the income scale.
"The Trussell Trust itself says it is opening three new food banks every week, so it's not surprising more people are using them. They also agree that awareness has helped to explain their recent growth.
"The Government has taken action to help families with the cost of living, including increasing the tax-free personal allowance to £10,000 which will save a typical taxpayer over £700, freezing council tax for five years and freezing fuel duty."