Three terror attacks in the Democratic Republic of Congo have been repulsed by the country's army - including one on the main state television headquarters.
Two young staff members, visibly terrified, were forced to read a statement on television at the RTNC, a political denunciation of President Joseph Kabila's government, according to a Reuters reporter who saw the footage.
"Gideon Mukungubila has come to free you from the slavery of the Rwandan," said the message.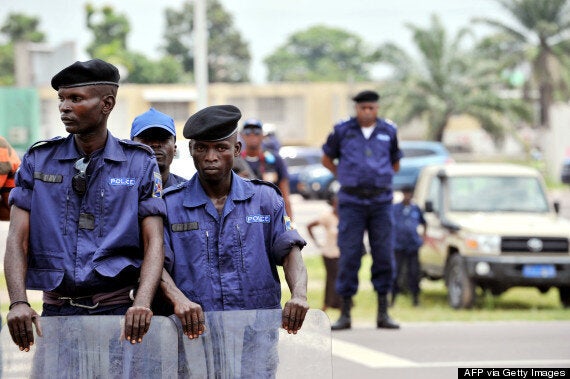 Police officers in Kinshasa, in the Democratic Republic of Congo (file photo)
Mukungubila is a church leader, and self-described 'prophet of God", who ran unsuccessfully for president in 2006.
Around 70 militants are believed to have taken part in the attack across the capital.
But, so poorly equipped, there was "no chance of them even to maintain their positions, even for a single hour," Mende told the BBC.
"People were frightened when security personnel were firing against these attackers."
RTNC TV has now resumed normal broadcasting, carrying a news bulletin in French which made no mention whatsoever of the incident.