David Cameron has indicated he may seek a cap on migrants from the EU as he attempts to renegotiate Britain's membership of the union.
The Prime Minister told the BBC's Andrew Marr Show that he was looking at how we could "renegotiate our position in Europe, can we have tougher measures on migration, than we currently have?"
When asked if he meant a cap on EU migrants, Cameron said that "all options were on the table".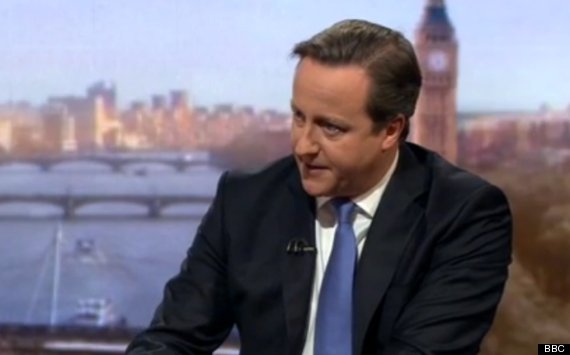 David Cameron on the Andrew Marr show on Sunday
"Two things have gone wrong, movement to claim benefits, and secondly, and I don't believe the people who founded the EU ever believed this would be a problem, is the scale is so big. One-and-a-half million came when Poland [and other A8 countries with lower incomes] joined the EU. So I think it is an issue we want to address in the renegotiation.
Brtiain "will be able to insist on a tougher, more robust regime" for future countries because of the need of "unanimity around the EU table", Cameron said.
David Cameron seems to be trying to sound like me. But the thing is, I believe in what I say.

— Nigel Farage (@Nigel_Farage) January 5, 2014
Cameron says a cap on EU migrant numbers is among "options for the future". Maybe, but one that's hugely unlikely to be agreed in EU. #marr

— James Kirkup (@jameskirkup) January 5, 2014
Cameron said it was "not right" that a EU migrant could claim child benefit for children back home. 'It's a situation I inherited and one I want to change. I think you can change it.
"I think it will take time because we either have to change it through agreement with other EU countries.. or potentially change it through the treaty change before the referendum that we'll hold on Britain's membership of the EU at the end of 2017."
Cameron would not be drawn on how many people he expected to come to Britain after immigration restrictions were lifted for Romanians and Bulgarians.
"We're not making a forecast because I think it's unlikely we'll get that forecast right.
"Because remember, it's not just Britain that's had to lift its controls. At the end of seven years of transitional controls, they are also being lifted in France and in Germany, in eight other European countries, so to try and make a forecast, I think, would be wrong.
"I think my job, what's much more important, is to put in place other measures to make sure that people who do come here are coming here to work and not to claim benefits, and that's what I've done.
"The last forecast that was made by the last Labour government, at the time of Poland's accession to the EU, where they put in no transitional controls, was a ludicrous forecast of 14,000 and it turned out that over a million people came.
"I don't want to repeat that mistake. I believe in learning from that mistake, having transitional controls for as long as possible, looking when future countries join the European Union, having transitional controls that either go on much, much longer or actually having either a test so that if their wages are much lower perhaps you delay entry to our labour market for far, far longer until that changes."
Cameron defended government plans to begin charging migrants treated in accident and emergency departments, insisting the proposals were enforceable.
The Prime Minister said it was right to charge foreign visitors for using the NHS, as he insisted that future migrants to Britain would face more stringent rules before being able to move here.
"Our NHS is a national treasure and we can all be incredibly proud of it, and it is right that we all pay into it and everyone here has access to it for free," he said.
"But people who come to our country, who don't have the right to use it, should be charged for it and we're putting that in place."
He admitted that he had not yet been able to deliver his 2010 pledge to reduce net migration down to the tends of thousands.