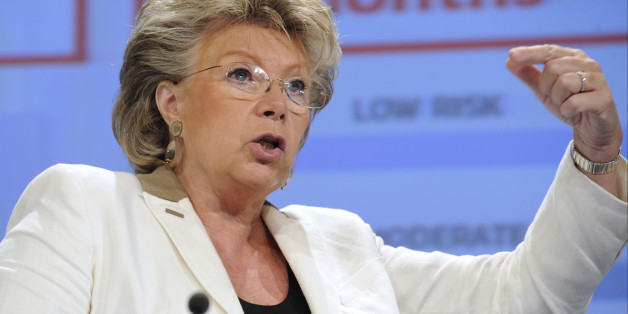 JOHN THYS via Getty Images
One of the most senior European Union officials has attacked David Cameron for peddling "myths" about Britain suffering from an invasion of migrants.
Viviane Reding, vice president of the European Commission, said British politicians had stoked up concerns about benefit tourism by Eastern European immigrants for political reasons.
"The supposed invasion by people who want to take advantage of social security and of the health system is an invention of politicians who like to have populist movements in order to win the elections," she said.
"I believe that the British industry has made it very clear, putting the figures on the table, and showing that the GDP of Britain grows by 3% to 4% because of the input of the working Europeans which come to Great Britain."
Reding, who also made headlines today for calling for a "United States of Europe" in a speech, made the comments during an online question and answer session.
She said: "It is just a myth to speak about an invasion, this invasion simply is not taking place."
The criticism from the European Commission comes amid an ongoing row between Cameron and the Polish prime minister over Downing Street's hopes of cracking down on migrant benefits.
On Sunday Cameron said it was "wrong" that child benefit should be paid to support workers' families who remained in Poland and outlined plans to push for a change in the EU treaties to end the practice.
The intervention drew angry reactions from the Polish foreign minister, ambassador and prime minister Donald Tusk. Cameron telephoned Tusk yesterday, in an attempt to build bridges.
According to the Downing Street read-out of the conversation, Cameron assured Tusk that he was not singling out Poles for criticism and that the impact of labour flows on the benefits systems of member states was a "pan EU issue".