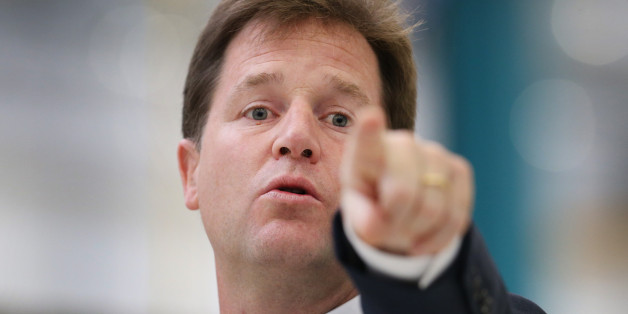 Peter Macdiarmid via Getty Images
Nick Clegg has launched a furious assault on "Chinese-style" welfare reforms being floated by the Tories.
The Deputy Prime Minister objected to proposals to stop child benefits handouts after the second child, proposed by a Tory MP and given fresh backing by Work and Pensions Secretary Ian Duncan Smith, comparing the potential changes to China's controversial one-child policy.
The Liberal Democrat Deputy Prime Minister condemned the idea of "penalising the young." amid suggestions that benefits could be limited to the first two children and under-25s could lose housing benefit.
Mr Clegg made clear that he was "not in favour" of such plans, which he said were part of the Conservative party's "wholly unfair" approach to welfare reforms.
He also warned that a single party government after the 2015 general election was one of the "greatest single risks" to the economic recovery.
The intervention came after Conservative Work and Pensions Secretary Iain Duncan Smith backed proposals for a fresh crackdown on welfare.
Speaking on the BBC's Andrew Marr Show, Mr Clegg insisted he was "no slouch" on reforming the benefits system.
He said he supported efforts to extend restrictions on benefits for immigrants from EU countries, and said he would "look at" other proposals from his coalition partners.
But he added: "I am not in favour of penalising the young. I am not in favour of a sort of Chinese-style family policy saying that the state says it is okay to have two children, it is not okay to have three children."