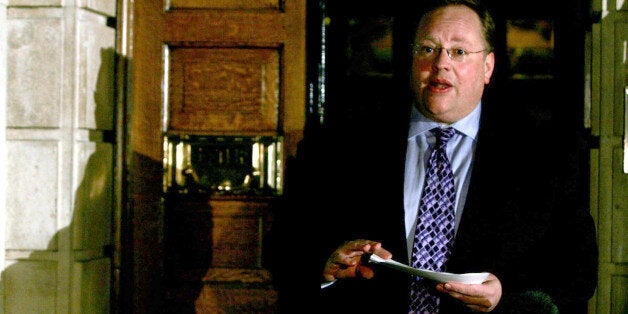 Nick Clegg has ruled out senior peer Lord Rennard playing a role in his 2015 election campaign but the party's former chief executive is set to return to a position on a key Liberal Democrat committee after being told he will not face disciplinary action over claims of sexual harassment.
An investigation by a leading QC concluded there was a less than 50% chance the allegations against female activists could be proved beyond reasonable doubt, but there was credible evidence of "behaviour which violated the personal space and autonomy of the complainants".
The report suggested that Lord Rennard should apologise and make a "commitment to change his behaviour".
The investigation into the allegations by Alistair Webster QC followed a decision by the Metropolitan Police last year not to press charges against the peer.
Clegg said: "People in positions of authority should never subject anyone to behaviour which is offensive or inappropriate. It is as simple as that.
"I want everyone to be treated with respect in the Liberal Democrats. That is why it is right that Chris Rennard has been asked in the report to apologise, to reflect on his behaviour and why he won't be playing any role in my general election plans for the campaign in 2015."
Lord Rennard, who had strenuously denied the allegations, said he looked forward to resuming his roles within the party after the decision to drop disciplinary proceedings.
The peer was elected to the Lib Dems' Federal Policy Committee (FPC) for a two-year term in 2012, before the allegations against him were reported on Channel 4 News.
Although he has not attended FPC meetings since the claims against him were made, it is understood he now intends to resume his work on the committee until his term expires later this year.
The Liberal Democrats were accused of "cowardice" by Alison Goldsworthy, one of the activists who made claims against Lord Rennard.
Clegg admitted the Lib Dems' rules had been "found wanting" and party president Tim Farron was reviewing the disciplinary procedures.
The Lib Dem leader said: "It's clear in the report that a number of women in the Liberal Democrats were subject to behaviour by someone who had a position of considerable authority which caused them real distress.
"That should not have happened and I, as leader of the Liberal Democrats, want to apologise to each and every one of those women again."
He added: "I am not content with the fact that a report concludes that - while of course we should respect the outcome of the report - that nonetheless the system is such that someone has been asked to apologise, distress has been caused, and yet there are no sanctions which can be applied."
Clegg also admitted he did not have the power to expel Lord Rennard from the party. "I'm a leader of a political party. There are some things I can do directly. There are some things I can't," he said.
"In my party, as in any party, however strongly you feel about things, everyone has to be treated in the same way when these disciplinary procedures happen. You cannot just have kangaroo courts. And our rules currently mean that you have to have a criminal burden of proof before disciplinary action can be taken."
Lord Rennard, 53, welcomed the end of the process which had begun almost a year ago. He said: "I am pleased that this brings to an end all investigations concerning allegations made against me on Channel 4 News last February.
"The Metropolitan Police also investigated the allegations thoroughly and over several months and found that there was no case to proceed.
"My wife Ann and I are very grateful to our families and many friends both inside and outside the Liberal Democrats who have shown unwavering support throughout.
"We are particularly grateful to Alex Carlile QC, who helped us to ensure that justice was eventually done, and to Richard Cannon of Janes Solicitors who guided us through the police processes.
"I now look forward to resuming my roles within the Liberal Democrats. I remain committed to the same values which made me join the Liberal Party as a teenager more than 40 years ago."
Experienced criminal barrister Webster was asked to investigate whether the peer should face a disciplinary hearing charged with bringing the party into disrepute, which could ultimately have led to him being thrown out of the Lib Dems.
He said: "My view, judging the evidence as a whole, is that there is a less than 50% chance that a charge against Lord Rennard could be proved to the requisite standard.
"In my opinion, the evidence of behaviour which violated the personal space and autonomy of the complainants was broadly credible. However, it is my judgment, considering all of the evidence collected, that it is unlikely that it could be established beyond reasonable doubt that Lord Rennard had intended to act in an indecent or sexually inappropriate way. Without proof of such an intention, I do not consider that such a charge would be tenable."
Related