A local Conservative activist, famous for his crepe stand on Hampstead High Street, has made a series of bizarre comments to his local newspaper, claiming the Tory party is not racist as many members have foreign wives.
Edward de Mesquita, who is standing for the party in West Hampstead at the local election, told the Camden New Journal he was baffled by allegations he heard on doorsteps that the Tories were racist.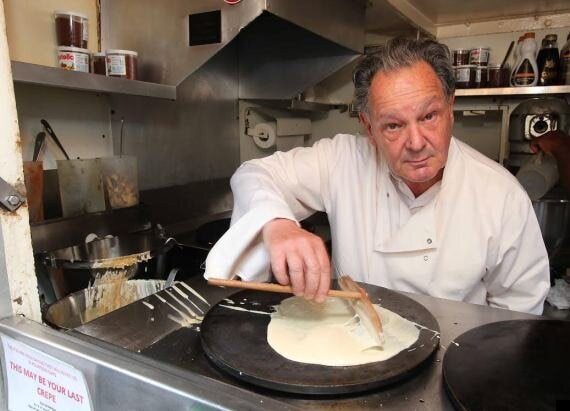 Edward de Mesquita, Hampstead Creperie owner
"How could I be racist? I have a Chinese girlfriend. Most of the girlfriends I've had have been very international. I tend to go for non-white women.
"So, when I go out door knocking, and people tell me the Conservatives are racist, I could say: 'No, now come on. I have a Chinese girlfriend.'"
Conservative Central Headquarters told HuffPostUK any response to de Mesquita's comments would be decided by the local party.
Hampstead and Kilburn Conservatives refused to comment when contacted by HuffPost UK.
De Mesquita told the CNJ Con­servatives were a "rainbow party", and said the party would definitely be able to get a Bangledeshi female candidate to go up against Tulip Siddiq, the Labour parliamentary candidate for the area.
Later in the conversation, he referred to a long-running dispute his La Crêperie de Hampstead had had with the pub next door to his crepe stand.
Police became involved when he called mediation with the pub "like a Jew talking to Himmler".
He was wrong to use that analogy, he told the CNJ, it was way more like the Sri Lankans and the Tamils, or Israel and Palestine.