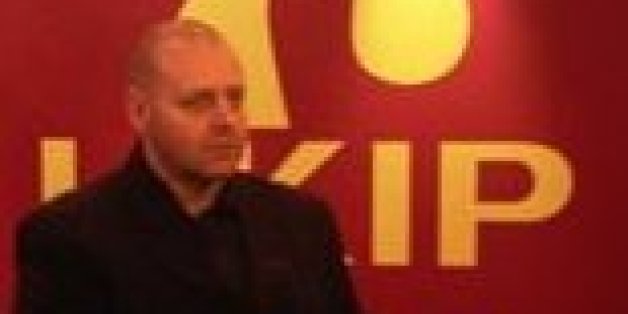 Facebook
Demands have been made that Ukip's interim Scottish chairman be sent off for counselling on ­anti-sectarianism after he described Glasgow Council as being for "gays, Catholics and Communists".
Ukip Scotland's head of policy Jonathan Stanley has demanded Arthur Misty Thackeray engage with a charity's "Beyond Religion and Belief project" – while the party itself has denied any official request to the Huffington Post UK.
Adding to Mr Thackeray's woes, another member of Ukip has said the chairman should "reconsider his membership" to the party.
Mr Stanley has written to the group Nil By Mouth on the back of Mr Thackeray's comments to "ensure [Ukip] credibly deliver a non-sectarian approach in supporting the United Kingdom in Scotland."
But a Ukip spokeswoman told HuffPost Mr Stanley is acting without party authority.
Dismissing the bid to get Thackeray to engage with Nil By Mouth, she said it was "one of the craziest things I've ever heard.
"That is absolutely not the case."
A Nil By Mouth Spokesperson confirmed the group has received a request for its Scottish branch to engage with its sectarianism awareness programme.
"We will give this request due consideration should the Scottish branch follow up this contact," a spokesman told HuffPost.
The party's lesbian, gay, bisexual and transgender (LGBT) section has also argued Mr ­Thackeray should "reconsider his role and membership within Ukip," The Herald Scotland has reported.
"If Mr Thackeray sees gay people as an opposition or a movement to which he is opposed, he should reconsider his role and membership within Ukip," Thomas Broker said.
Mr Thackeray said Catholicism was based on "fascist ideology" and complained of a "suffocating culture of anti-loyalism," according to the Herald.
He did not respond well to the paper's revelations: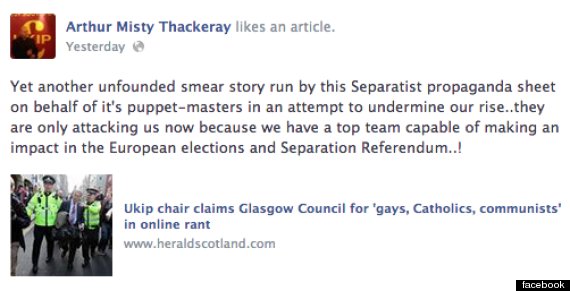 Mr Thackeray has previously been accused of "liking" a Facebook group claiming "paedophilia is part of Islamic tradition," following a Mirror investigation.
His name and mobile number has also turned up on a leaked list of English Defence League activists in the past.
According to reports, Mr Thackeray posted on the social media site in 2011 that "real Catholicism and Real Islamism are far from antagonists with both having an outwardly benign image but inwardly sharing a fascist ideology of extreme submissive conservatism and imperialism ..."
Mr Thackeray has insisted such comments "when taken in context would be considered merely routine social commentary by any experienced observer of Scottish political and cultural life."
"It goes without saying it is never my intention to cause needless offence," he added.
But an SNP MEP told the Huffington Post the comments only highlight how the party's leader in Scotland harbours "deeply unpleasant views."
Alyn Smith said "it should come as no surprise that yet another Ukip backwoodsman, albeit they have lost office bearers so fast he now finds himself the leader in Scotland, has been revealed to have deeply unpleasant views.
"He is an embarrassment to Ukip, but also to public life in Scotland and he has to go."
"Many of these comments could be dismissed as harmless rants on social media, but they reveal a deeply unpleasant set of views that if he held then and felt were appropriate to broadcast on the internet it seems fair to assume he holds still.
"Online stuff is pretty murky at the best of times, but it seems clear Ukip trawls the muddier shallows more than most."
Ukip said the party would not comment on the remarks made on social media by Mr Thackeray.
The calls for Mr Thackeray's apology came as Nigel Farage claimed he had launched a cull of "extremist, nasty or barmy" views from the party.
Five of Ukip's MEPs will not stand for re-election in May following the Ukip leader's clearout ahead of the polls.
A Ukip councillor has also been suspended after a homophobic rant in a local newspaper blew up into a media storm.
The former Councillor for Henley on Thames in Oxfordshire, David Silvester, claimed the country had suffered floods over the Christmas and New year period due to the Government's decision to legalise gay marriage.
But Mr Silvester has defiantly refused to quit, launching into another odd rant explaining why he has no intention of standing down over his claims.