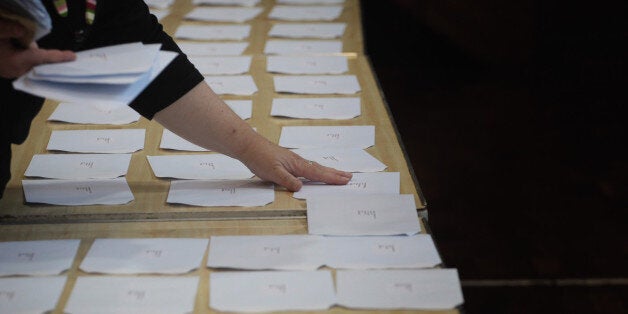 The A-level system should be replaced with a wider "baccalaureate" scheme that allows teenagers to study more subjects, a report suggests.
It says focusing just on A-levels - seen by many as the "gold standard"- is increasingly outdated and should be gradually phased out.
Instead, youngsters should follow a broader curriculum which covers not just English and maths, but languages, science and technology as well as other other skills such as teamwork.
The move would allow young people to keep their career options open and give them more opportunities later in life, the report argues.
It has been drawn up by an independent advisory group made up of business leaders and academics which has conducted a six-month review of England's education system, funded by education company Pearson.
The report says there is a case for broadening the range of subjects taught to 16 to 18-year-olds.
Under the current system, sixth-formers usually take three or four A-level subjects.
Moving to a "baccalaureate" system is one option, it suggests. This type of structure - such as the International Baccalaureate qualification - typically involves studying around six subjects from different areas.
The review goes on to say that students need to learn more "softer" skills, such as critical thinking and problem solving.
"In broad terms they are the skills that enable young people to face the demands of higher education and career challenges in a global and very competitive environment," it says.
The advisory group also says that the content of the school curriculum tends to change with each new government and calls for an independent body made up of teachers, employers, universities and political parties to be set up.
Its aim would be to try and establish "long-term political consensus" on the curriculum.
In his foreword to the report, Professor Sir Roy Anderson, a former rector of Imperial College London says: "The content of this report aims to contribute to the debate of whether the 'gold standard' of A-level be broadened to include both more academic disciplines and teaching on the so-called softer skills, such as communication and team work, which are so important in employment and university."
Sir Michael Rake, chairman of BT and president of business group CBI said: "Over the last 25 years and longer there have been multiple initiatives from different Secretaries of State which have not achieved the necessary improvement in educational standards.
"It is therefore time to establish a cross-party apolitical approach to education to move on from our narrow out-dated focus with A-levels and to improve on the other competencies necessary for success including the fundamental need to improve the basic skills of literacy and numeracy which are at an unacceptably low level."
A Department of Education spokesman said: "Our new curriculum was developed following extensive consultation with a wide range of experts and will give children the essential knowledge they need.
"Alongside wider reform to GCSEs, A-levels and vocational qualifications this will mean young people leave school with the skills and qualifications they need to secure a job, apprenticeship or university place.
"As this week's results show, our plan to fix the education system is working and helping ensure all our children have a secure and prosperous future."
Popular in the Community