A close member of Jude Law's family was leaking information to the NotW for money in 2005, the phone hacking trial has heard.
The 41-year-old Alfie star was quizzed by former editor Andy Coulson's lawyer, Timothy Langdale QC, about a story about his then-girlfriend Sienna Miller having an affair with actor Daniel Craig.
Asked if he was aware at any time that a member of his "immediate family" was talking to the NotW, he said: 'I was aware later around 2011, maybe later than that, at the time I was approached about the case that the NotW had been in contact with people in my family, trying to find things out, asking for quotes.'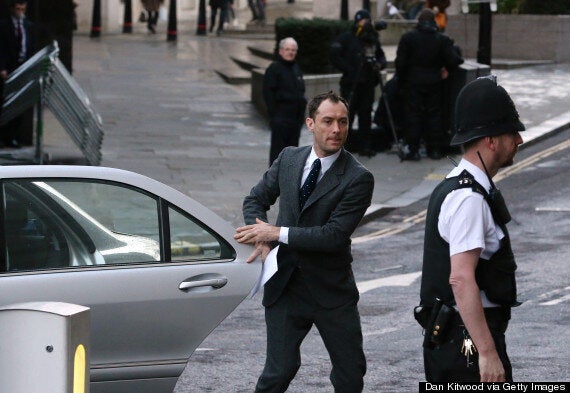 Jude Law gave evidence at the Old Bailey on Monday
Asked if he knew the family member was getting paid, he said: "I have never been aware of that, getting paid for it."
The first he knew of that was today, in the court, he said.
He told the court he first became aware of rumours of the affair around the time the couple went to Ms Miller's sister Savanah's wedding in the West Country and Law was shown NotW articles headlined "Sienna Cheats On Jude" and "Layer Fake".
He told the court he had telephoned Craig to confront him about the affair and suggesting he should tell his own girlfriend about it.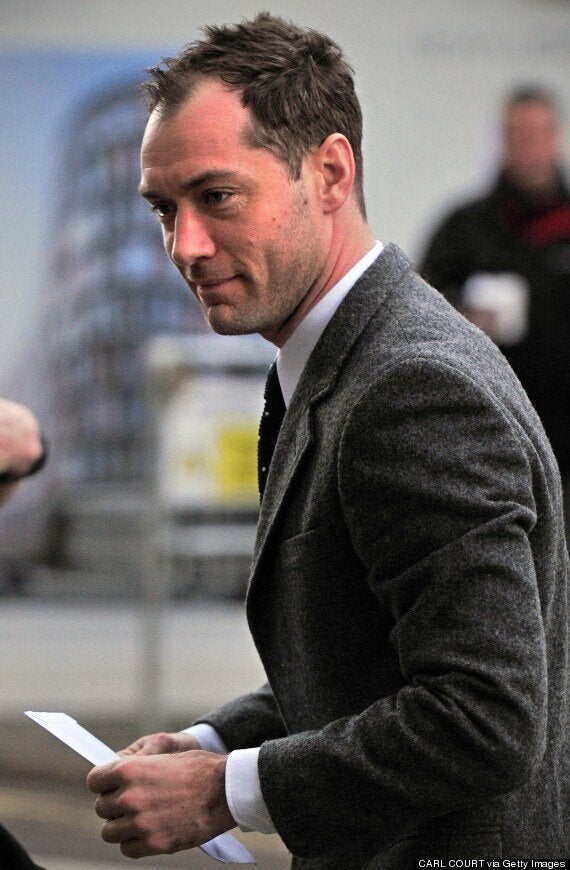 Jude Law arrived in a silver Mercedes
But he could not remember whether that was before or after the paper broke the story and he had not left a voicemail about it.
Asked if he was aware that anyone around him was leaking stories, he said: "No, I did not know that anyone around me was talking to the newspapers, although I suspected it because there was such a flow of information... I suspected many people over that period of time."
The lawyer wrote down a name of a source on a piece of paper to show the witness.
"I was made aware very recently that there had been some kind of communication with this person and several others in and around and about this period of time. I was never aware any money had been exchanged."
Coulson denies conspiring to hack phones commit misconduct in a public office.
The 46-year-old, of Charing, Kent, is facing two allegations that he conspired with former NotW royal editor Clive Goodman, 56, from Addlestone in Surrey, and other unknown people to commit misconduct in public office between August 31 2002 .
Law, wearing a grey suit, white shirt and blue spotted tie, told the jury that from around 2001 photographers would gather at his home.
"Around 2001 and over the following four or five years the daily appearance of packs of photographers either on the street or in cars became a very regular occurrence."
He added: "I became aware that I was also turning up at places having arranged to go there secretly ... and the media were already there, or photographers were already there."
The actor, who arrived in a silver Mercedes, was greeted at the Old Bailey by a crowd of television cameras and photographers.
and January 31 2003, and between January 31 and June 3 2005.