It's a growing trend which supporters in Britain deplore, and although Manchester City midfielder Yaya Touré and Chelsea striker Samuel Eto'o were discreet enough they swapped shirts at the interval, they were still spotted by the home side's tunnel camera.
City record the goings on in the Etihad Stadium tunnel before and during every home match, which occasionally makes for fascinating viewing. In 2012, they captured Vincent Kompany's reaction to his red card in the FA Cup third round defeat to Manchester United.
"Unbelievable. Un-f*****g-believable. Well done," the captain said as he trudged back to the dressing room.
Although footage from Monday night isn't as colourful, it did catch the multitude of pleasantries exchanged between the players over the course of the evening.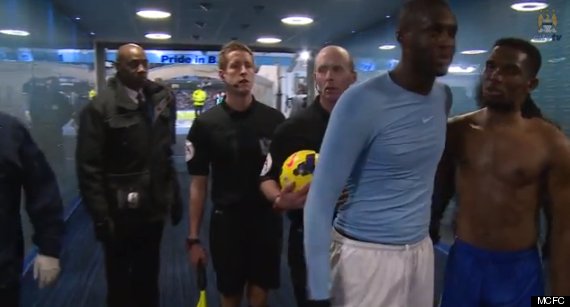 Touré and Eto'o swapped shirts at the break
Englishmen, Serbs, Belgians, Spaniards, Africans and South Americans were playing for both sides, which goes some way to explaining the cordial pre-match atmosphere.
And that extended to the pause, when Ivorian Touré and Cameroonian Eto'o ignored one of English football's taboos and exchanged shirts.
Eto'o has already done it before this season, when he and Liverpool defender Mamadou Sakho traded shirts on the Stamford Bridge pitch in December. Reds boss Brendan Rodgers was not pleased.
"Well one, I didn't know that, and two, thanks for telling me because I don't like that," he said when informed at full-time.
Last season, Arsenal full-back André Santos was vilified for asking Robin van Persie for his shirt during the Gunners' defeat at Manchester United. He played just five more times for Arsène Wenger's side.