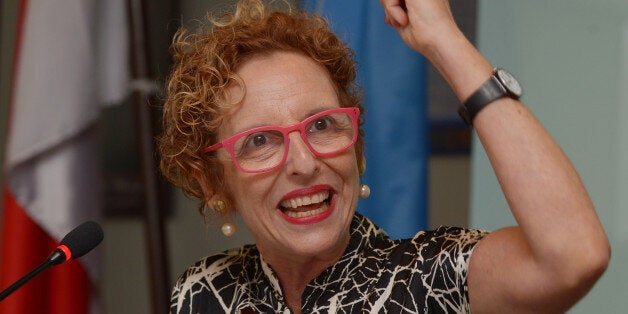 United Nations investigator Raquel Rolnik's report on UK housing, in which she calls on the government to scrap the bedroom tax, has been attacked by ministers as "partisan" and a "misleading Marxist diatribe".
Rolnik used her full report, published on Monday, to repeat her initial call for the bedroom tax to be scrapped as it negatively "impacts on the right to adequate housing and general wellbeing of many vulnerable individuals and households".
She warned the governments' welfare reforms, coupled with the housing shortage, meant many poor, disabled and homeless people were in "tremendous despair".
She criticised the government for its failure to provide enough affordable and social housing, warning that the "structural shape of the housing sector has changed to the detriment of the most vulnerable".
The UN special rapporteur says the bedroom tax has left poor tenants facing "hard choices between food, heating or paying the rent", resulting in them feeling "targeted and forced to give up their neighbourhoods, their carers and their safety net."
The report added: "While in principle the [bedroom tax] policy does not force people to move, the reality of people's experience, many of whom are working people with no income to spare, left no doubt in the special rapporteur's mind that many have no other option, which has left them in tremendous despair."
Rolnik, a former urban planning minister in Brazil, came at the formal invitation of the UK government for a 12 day trip to Britain over August and September. She visited Belfast, Manchester, Glasgow, Edinburgh and London, visiting council estates, food banks, homeless centres and new housing associations as well as reviewing hundreds of written testimonies.
Shadow housing minister Emma Reynolds said: "Labour has called on David Cameron to reverse his unfair and unworkable bedroom tax because we can see the impact it is having on hard-pressed and often vulnerable people, the majority of whom are disabled. If he doesn't repeal the bedroom tax, the next Labour government will."
Rolnik's blistering attack drew a strong response from two government departments, with housing minister Kris Hopkins branding her report "partisan" and "completely discredited".
He added: "It is disappointing that the United Nations has allowed itself to be associated with a misleading Marxist diatribe."
Work and pensions secretary Iain Duncan Smith said the report was "biased, poorly researched and contains inaccuracies the author refused to correct even when they were pointed out to her".
He attacked Rolnik for failing to change mistakes in the report, including a reference to "increasing unemployment", adding: "I welcome scrutiny of all our welfare reforms, but this report is utterly ridiculous."
Rolnik said that she would not be commenting further on the report or her findings until March, when the document is set to be discussed with the Human Rights Council in New York.