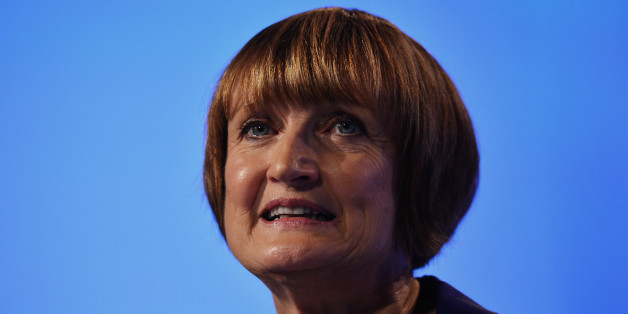 PAUL ELLIS via Getty Images
Dame Tessa Jowell has a simple message for anyone who thinks she might be too old to be mayor of London. "My pilates class teacher said 'I have women of 35 who can't do what you can do.'"
The former Labour cabinet minister will be 68 in 2016 - which is when the next mayoral election is scheduled to take place. If she were to win, she'd be 72 at the end of her first term in City Hall. "I think it's rather glorious," she tells me, grinning. "This is what 68 looks like."
Jowell doesn't lack energy or passion; since announcing her decision to retire from parliament, she has accepted offers to teach at Harvard and the London School of Economics, continues to chair the CitySafe Foundation and travels regularly to the slums of India on behalf of the sporting charity Magic Bus. The Labour MP was on her party's frontbench for 20 years and by 2015, when she stands down from the Commons, will have been an elected representative for 38 years - 15 years as a councillor and 23 years as a member of parliament for Dulwich and West Norwood, in south east London.
The runners and riders in the race to be Labour's London mayoral candidate include MPs Diane Abbott, David Lammy and Sadiq Khan and peer Andrew Adonis - but Jowell is the clear favourite. Nevertheless, the former Olympics minister tells me she hasn't yet decided whether or not to enter the contest, which will take the form of an open primary after the next general election. "I'm not going to be harassed into making a decision when it might be the wrong decision," she says, before conceding: "Of course, I'm thinking about it." (As she is answering, I can't help but notice a copy of former Labour mayor Ken Livingstone's autobiography, 'You Can't Say That', sitting on the bookshelf behind her.)
Jowell doesn't believe the reports that suggest Tory incumbent Boris Johnson might go for a third term as mayor. "I think what is more likely is that Boris will go for a seat before the 2015 general election." Johnson, of course, has been a keen advocate on behalf of the banks and, specifically, the City of London, as was his Labour predecessor 'Red Ken'. Can a mayor of London avoid being anything other than a spokesman for the City?
"You're a spokesman for London and London's success," she says, adding. "I don't think the banking industry [will] be the same industry in five or ten years time." She continues: "I wouldn't have said some of the things that Boris has said, which I think he has said more for effect and positioning than anything else. What I would do is work closely with business right across London. Business has to believe that there is some benefit for them in the person that is their elected mayor."
NATIONAL TREASURE
It is difficult to dislike Jowell. She is warm and witty; charismatic and charming; it is no wonder that her admirers span from the left to the right of the political spectrum. "She was instrumental in bringing the Olympics to London," wrote the Telegraph's Benedict Brogan the day after Jowell announced her retirement, "and by all manner of measures qualifies as a national treasure."
I meet the former culture secretary in her Westminster office, in Portcullis House, overlooking the Thames. She arrives late, having been caught up in a Commons debate. Does she enjoy being a backbencher, after her two decades on the frontbench? She smiles and nods. "It's a great freedom." Does she feel she has more independence to speak out now? This time Jowell shakes her head and makes a very serious face: "No, I feel intensely loyal to my party and to the leadership."
Jowell puts a premium on loyalty. She was a devoted ally of Tony Blair - for whom she is quoted as saying she would "jump under a bus" - throughout his ten years as prime minister, and, despite her differences with Gordon Brown, never fell out with the latter in public (unlike fellow Blairites such as Hazel Blears and James Purnell, who quit Brown's cabinet and called for him to go).
Having backed Blairite David, over Brownite Ed, in the Labour leadership race in 2010, she subsequently became an outspoken supporter of the younger Miliband, who kept her on the frontbench as shadow minister for the Olympics and shadow minister for London until her resignation in September 2012. In August 2013, Jowell penned a scathing column for the Observer in which she denounced the Labour leader's critics inside the party for their "toxic disunity" and for helping the Tories create an impression of "so-called summer crisis".
But should loyalty to a party leader blind a person to that leader's faults or flaws? Isn't she worried about Miliband's poor personal ratings in the polls? "Ed Miliband is not the person who's represented a lot of the time in the media. He's very funny. He's incredibly warm. He's very empathic." Jowell reveals that when she announced she was standing down from parliament, back in November 2013, "I had these loverly letters and tributes from a load of people and the one that made me cry is the letter that Ed wrote me. It was so perceptive and generous and so.." She pauses and looks as if she is about to well up again.
Voters, however, don't see in him what she sees in him, do they? "People do when they meet him." The problem for Miliband, of course, is that he can't meet 60 million people between now and May 2015. Does he have a touch of the Neil Kinnock about him? "No," she replies, dismissively. "It's quite different." Jowell continues: "There's this thing about 'presence' in leaders. When Tony became leader, he could walk into a room and you'd have your back to him but you'd know he had arrived because there was a sort of static in the room." She adds, with only the slightest glint of mischief in her eyes: "Strangely, Gordon had it while he was chancellor but never had it when he was prime minister." According to Jowell, Ed is "developing" the presence he needs. But can he do it in time for the general election? "Oh yes."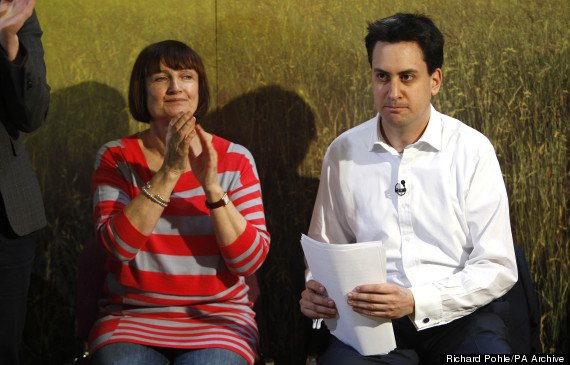 Jowell rejects the comparison between Ed Miliband and Neil Kinnock
What could the Labour leader do to improve his public performances in the meantime? What positions should he stake out? Jowell leans forward. "It's not in my way to offer Ed advice, even through you Mehdi." Loyal Tessa once again.
In fact, she is so keen to be clear and loyal and avoid any wrong impressions that, before I can ask another question, she blurts out: "I believe Ed will be prime minister, just to cut through all this."
Jowell is one of only a handful of senior Labour figures to have served under both Blair and Brown and also under Miliband. She is a card-carrying Blairite, a true believer in the New Labour 'modernising' project. So what does Blair's former culture secretary think is the biggest difference between the New Labour years and the era of One Nation Labour? For Jowell, the "architecture" of One Nation Labour is not dissimilar to that of New Labour but there is a "tonal difference" and also "the difference that a decade creates when you've had a major banking crisis in the middle of it and people have lost trust in institutions". Jowell continues: "I think one of the areas of debate about the differences between New Labour and One Nation Labour is that there are those who subscribe to One Nation Labour who would say that the country has moved to the left. I don't think that's true."
Is Loyal Tessa aiming this barb at her leader? She doesn't say.
Miliband, after all, has repeatedly suggested that the country has moved to the left on issues such as income inequality and the regulation of banks and power companies. He has also been clear that the New Labour governments of Blair and Brown didn't do enough to tackle the gap between rich and poor - or as he put in in his 'One Nation' party conference speech in October 2012: "New Labour.. was too silent about the responsibilities of those at the top."
Loyal Tessa, however, can't hide her disagreement with her leader on this particular issue. "I would buy less of that.. if you take out the global super rich, the gap did narrow. We saw the instruments of equality being education, the broader role for schools, skills, apprenticeships, opening up access to universities.. I never thought my [cabinet] colleagues were ambivalent about poverty." In London, she tells me, New Labour "reduced child poverty from 39% of children to 27%. One of the things that gets lost [in these debates] is the complexity of change and how long it takes… so much of this change needed another five years."
Labour is leading the Tories in the polls but Miliband trails Cameron. Will Labour even get another five years in office? "Politics is different now," says an animated Jowell. "People say at this stage…Tony Blair was 40 points ahead and so forth. But those were different times. Turnout in elections in the fifties bears no relation to now. Times change."
But Miliband is trailing on the economy, too? "We were behind on the economy in 1997 and we had a landslide," is her blunt response.
TAXING TIMES
Unlike some others on the party's right, the former New Labour minister says she supports Ed Balls' pledge to bring back the 50p top rate of tax because people "have got to feel the road to recovery is equally being shared [and] is fair. I think it is more a fairness message than it is a fiscal message, actually."
Why didn't Blair bring in a 50p tax during his decade in office? "We hadn't had a banking crisis." So fairness didn't matter back then? "We were in government during a period of employment, historically low unemployment, during a period of sustained growth, so we didn't need a 50p tax rate." Some Labour figures on the left have suggested the 50p tax should be made permanent, rather than temporary. Jowell, New Labour to her core, disagrees. "If we manage to bring the books into balance, we cease to need a 50p tax rate."
The 50p tax pledge, despite its popularity with the voters, including Tory voters, has done little to dent Osborne's poll lead over Balls. The former, not the latter, is still the public's preferred choice for chancellor of the exchequer. Jowell believes it is much easier to be trusted on the economy "if you're in government". It's part of what she calls "the accoutrement of government". The ex-cabinet minister also believes the Tories were "very successful, when we were completely focused on the [Labour] leadership election, at defining the terms of their not-victory and saying 'We won because you crashed the car and drove the economy into a ditch,' which was nonsense."
So she doesn't accept the last Labour government was guilty of overspending, as the Tories and the right-wing press constantly claim? "No, I don't." She points to the much-needed construction of four new secondary schools in her constituency between 1997 and 2010 and the overhauling of King's College Hospital. "We inherited public infrastructure that was desperately in need [of modernisation].. when we were elected [in 1997], half of our hospitals had been built before 1880. That's why I don't accept we overspent." (Those on the right who maintain that there is a split between Blairites and Brownites on Labour's spending record should perhaps have a word with Jowell.)
APOLOGISE OVER IMMIGRATION? NO THANKS
The Labour leadership has refused to apologise for overspending in government - but is ultra-keen to apologise for its record on immigration. In recent months, Miliband, shadow home secretary Yvette Cooper, policy review coordinator Jon Cruddas and former home secretary Jack Straw are among those who have expressed regret and said the party "got it wrong" on migration from eastern Europe, in particular. Does Jowell agree?
"I'm not on the apologizing side of this. Because I was there throughout and what I don't accept is that these were decisions that were taken recklessly." The failure, she says, was a failure to communicate. Citing the introduction of Labour's points-based system for migrants in 2008, she says she remembers telling her ministerial colleagues that "we're going to have to go out and explain this, day in, day out, for the next six months. It didn't happen. I think its been our failure to explain, our failure to reassure, our failure to confront real and legitimate anxieties that has gotten us into this position."
Jowell is a London MP - she reminds me that her constituency is "one of the most diverse in the country. My constituency was made by immigration." She later concedes: "I think a London MP like me will have a very different view of this issue from people who represent what may be predominantly white constituencies in other parts of the country."
She also says "the management of the arrival of unexpectedly larger numbers of people was a problem for very many people" and "finding that your kids at school with a majority of children who don't speak English is threatening" but maintains that people's lives weren't diminished by "being able to have plumbers from Poland and carpenters from Latvia". Immigrants, she points out, were doing "a lot of the jobs that young British kids wouldn't do". For Jowell, the bigger issue is identifying "the structural reasons [as to] why young British people are locked out of these jobs".
The former minister tells me "there isn't benefit tourism"; that is, new migrants arriving in the UK in order to access the welfare state, rather than seek work. Yet Cooper, the shadow home secretary, has said the coalition "is right to look at" so-called benefit tourism Doesn't that bother her? Loyal Tessa reappears. She won't criticise Cooper directly. "Look, I don't want to get into a scrap with you about words. My position is that it was a policy that was carefully considered, we didn't simply wander into it. And it was a policy that we decided on because we had skills shortages."
Jowell says Brown's "British jobs for British workers" mantra didn't "help the debate at all". Is she worried about the tone of the current political and media debate over migration? "It's not just the tone but its also the content of the debate [that] needs to change."
BLAIR'S BUDDY
On the day we meet, the Mail Online is reporting on two alleged meetings between her former boss, Blair, and Tory education secretary Michael Gove. Jowell doesn't believe the story is true; she speaks regularly to the former PM. Wouldn't it be better for Labour, and for Blair's own reputation, if he took a vow of silence? Kept out of the papers for a while? Not a week seems to go by these days without an intervention, on the domestic or international front, from the controversial ex-premier.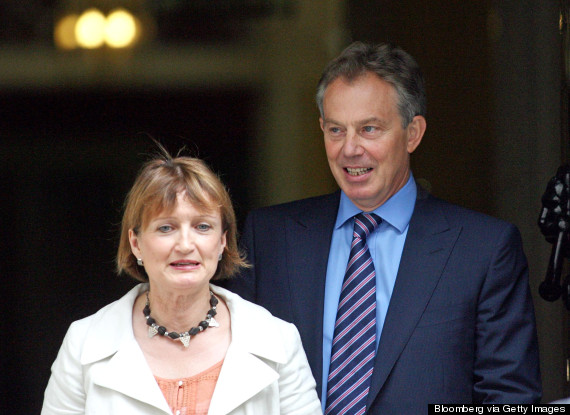 Jowell remains close to her former boss Tony Blair
Jowell chuckles at my suggestion. "He's kind of stepped out again, having said nothing, because close friends like me and others have been saying to him, 'Look you've got to be part of this, you can't just disappear and not respond to the travesty,' which is how what he's doing now is being represented."
Isn't the real travesty Blair's public support for the military regime in Egypt? The former prime minister who likes to portray himself as a liberal interventionist and supporter of democracy and human rights abroad said on a recent visit to Cairo that "it is fundamental that the new government succeeds, that we give it support in bringing in this new era for the people of Egypt".
This, lest we forget, is the same government which has locked up foreign journalists and opened fire on peaceful protesters, killing hundreds, if not thousands of innocent Egyptians. Jowell says she is a "democrat" and that had she been in Blair's position she "wouldn't have said that because it was so counter-intuitive" but then praises her old friend's for being "prepared to come out and say these things" because they are "brave assertions".
I can't hide my disappointment. Doesn't loyalty have its limits?
Blair, famously, has refused to apologise or express regret over his decision to go to war in Iraq. Does Jowell still back the war? Has she changed her view? "No." So she still believes it was the right thing to do? "I do," is her terse response.
Talking of past conflicts, I can't resist asking her about recent press reports that she had to intervene to prevent Balls and shadow foreign secretary Douglas Alexander coming to blows during a "blazing row" over Labour's Europe policy in October 2012.
"That's a complete bollocks story," she exclaims, before I can finish asking my question. So it didn't happen? "No, she replies, adding: "Douglas rang me [to ask], 'Do you know about this?'. I've got absolutely no recollection of it whatsoever. I spoke to Ed Balls about it. He doesn't remember it either." So she's sure it never happened? This time her answer is less strident. "I don't know.. it never happened in my presence. I never separated Ed Balls and Douglas Alexander."
Jowell doesn't have a bad word to say about any of her Labour colleagues - and they don't have a bad word to say about her. She is popular, experienced and - as the Olympics proved - a very capable, as well as ambitious, politician.
Across the course of my interview with Jowell, I can't help but notice how torn she is between wanting to defend the New Labour record of Blair, with its focus on low taxes and business-friendly policies, while signing up to the One Nation mantra of Miliband, with its critique of inequality and deregulation; torn between her loyalty to Tony and her loyalty to Ed.
She herself tells me she wants to move beyond the narrow confines of party politics: "Here's the contradiction: I am Labour in every cell of my body but I also think the most powerful politics are non-tribal politics, where you build coalitions of shared values, shared investments, and that's how you really begin to make things work.
Perhaps running for, and being, mayor of London would be the perfect move for Jowell, a fitting final act to her lengthy political career. Directly-elected, with the second-biggest constituency in Europe (behind only the president of France), Jowell would no longer have to be loyal to this or that Labour leader; only to herself and the city she adores.