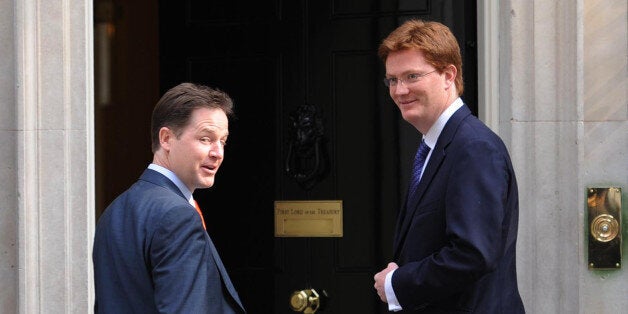 Nick Clegg has denied that his chief secretary to the Treasury, Danny Alexander, has "Stockholm Syndrome" and has been ideologically captured by the Tories.
On Monday evening an aide to George Osborne claimed Clegg often complained that Alexander had "gone native" in the Treasury.
Labour MP Kevin Brennan seized on the comments today as Clegg answered questions in the Commons. "I know the deputy prime minister will be aware of the concept of Stockholm Syndrome where captives increasingly empathise with their captors," he said. What is he going to do to de-programme the Treasury One?"
The Lib Dem leader laughed off the remarks and said Alexander, Osborne's deputy in the Treasury, was doing an "outstanding job on behalf of the government and the Liberal Democrats". Clegg added: "His Lib Dem heart is exactly where it should be."
The exchanges were prompted by comments reported by the Huffington Post UK made by Osborne's parliamentary aide, Tory MP Rob Wilson.
Wilson told Conservative activists: "I think Nick Clegg complains quite often that Danny Alexander has gone native in the Treasury. I think there is some truth in the fact he has gone native in the Treasury. The relationship is very good within the Treasury team."
He added: "I am what George would describe as his wingman, his right-hand man, I do get to see a lot of what is going on, I do a lot of work on his behalf as you would expect. But most of it will remain confidential for obvious reasons."
In the Commons today, Clegg mocked Wilson for emphasising his closeness to the chancellor. "He claims he is extremely close to the chancellor, knows his mind, that he is his 'wingman'. Well he is as good a wingman as Icarus was in flying off on his own wings, to judge by his comments."
Wilson's precise choice of words are likely to have been influenced by a complaint last week in The Independent from left-wing Lib Dem activists that Alexander was too willing to sign up to post-2015 Tory spending plans.
When the initial criticism of Alexander emerged, he sought to counter the impression he was too close to Osborne by telling the Daily Mirror that the government would only be able to reduce the top rate of tax to 40p over his "dead body".