Prince Charles has been criticised for joining members of the Saudi royal family and taking part in an Ardah or sword dance in a stadium in the capital Riyadh.
Sword in his hand and wearing traditional robes, the Prince of Wales looked "painfully awkward" as he took part in a ceremony to celebrate cultural life in Saudi Arabia.
But human rights groups have slammed the move, saying the royal "should be under no illusions that outside of the palatial royal residences of Riyadh and Doha, the human rights situation in both countries is desperately bad." Amnesty International has called on the Prince to have a "frank discussion" with his hosts about key human rights issues.
As the pictures of the dancing royal emerged, many were quick to condemn them:
The Prince is making a short tour of the Middle East visiting Saudi Arabia and Qatar - a trip which comes just under a year since he last toured the two nations.
An Ardah is normally performed at events like weddings and features hundreds of Saudi Arabian men and boys dancing and sing in formation with swords in hand.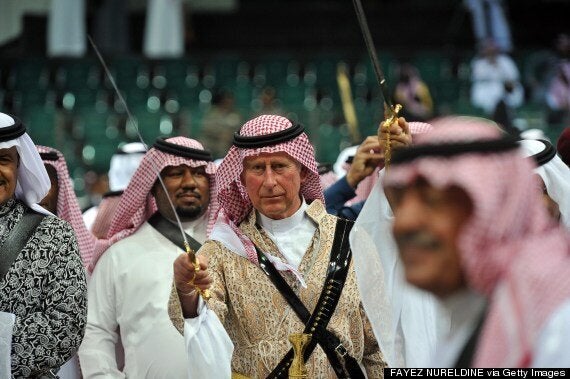 The ceremony was performed to celebrate the Janadriyah Festival, an annual cultural event lasting 17 days which marks all aspects of Saudi life and is being held this week in Riyadh.
The Prince's host was Prince Muqrin bin Abdulaziz, the former head of the Saudi intelligence service who was named as the Second Deputy Prime Minister by King Abdullah last year.
The visit to Saudi Arabia is Charles's 10th official trip to the country since he first toured the nation in 1986.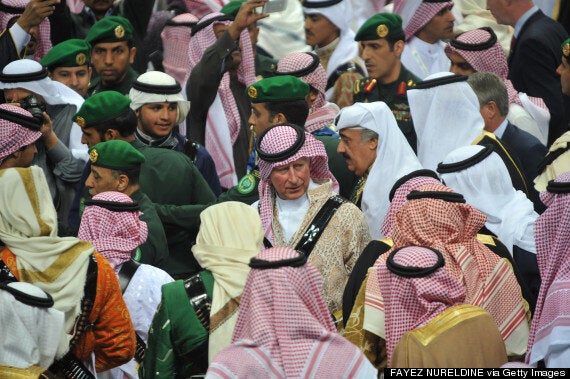 Popular in the Community