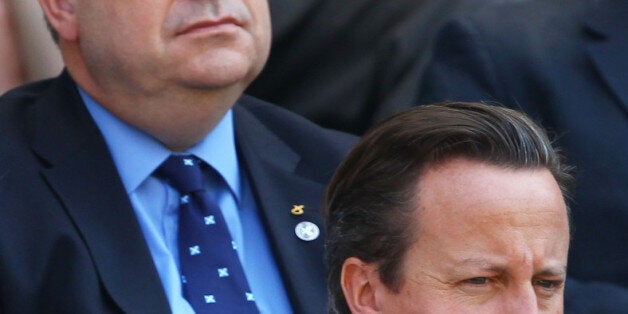 Three out of five Britons want Scotland to remain part of the United Kingdom, according to a poll.
The survey of people throughout the UK found that 62% wanted the union preserved, with just 38% supporting Scottish independence.
Only voters in Scotland will be able to have their say in September's referendum, but the poll for the Sunday Express found 58% believed people across the UK should be able to have their say because of the potential implications for the rest of the country, with 20% saying the decision should be left to the Scottish and 22% unsure.
Meanwhile, a separate poll suggests the No camp are still on course to win.
Some 37% told an ICM poll for the Scotland on Sunday that they will vote Yes against 49% who said they will vote No.
It came as Chief Secretary to the Treasury Danny Alexander dismissed Alex Salmond's claims that Westminster's politicians were "bullying" the Scottish Government by ruling out a currency union if there is a Yes vote in September's referendum.
And the Scottish minister backed pop veteran David Bowie's high profile intervention in the independence debate, saying celebrities could provide "inspirational leadership" to campaigns.
Bowie used his Brit Awards acceptance speech - delivered by supermodel Kate Moss - to plead with Scotland to stay in the union.
In a Mail on Sunday article Alexander said: "David Bowie's call sparked strong reactions on both sides of an ever more passionate debate. He was attacked for being a 'celebrity', being English and not living in the UK.
"Even the hostile reaction to him posed some interesting questions and in part explains why this issue is now the subject of intense debate across the UK and not just in Scotland.
"Yes, the most important people in all of this are we who live in Scotland - it is our votes that will make the decision, one that will profoundly affect everyone in the UK.
"And why shouldn't a 'celebrity' have a view and express it? Why shouldn't an Englishwoman have a view on an issue that will change the country she lives in, too?
"Come to that, why should we be surprised that Brits living abroad have a view on the referendum? Celebrities can bring inspirational leadership to a campaign. Who could ever forget Joanna Lumley's crusade for the Gurkhas?"
Related