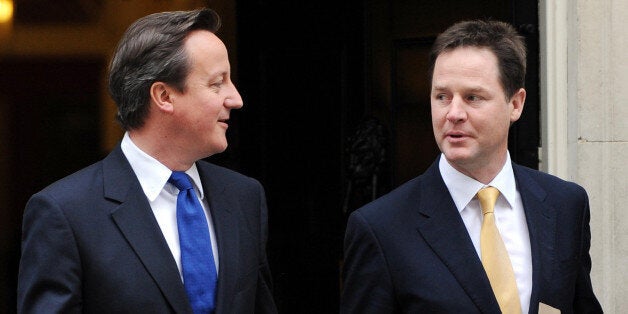 David Cameron could go into next year's general election with a promise that the Conservatives will not form another coalition with the Liberal Democrats, it has been reported.
The Daily Telegraph quoted an unnamed "source close to the Prime Minister" as saying that Mr Cameron does not want another coalition after the May 2015 poll. Ruling this out in the Tory manifesto would give voters a clearer idea of the choice they face at the election, said the source.
In response to the story, senior sources at both Downing Street and the Conservative Party each confirmed that Mr Cameron had made clear that he is "going all-out for a Conservative majority", but offered no direct response to the suggestion that he is considering ruling out a coalition if the election produces a hung parliament.
Deputy Prime Minister Nick Clegg has stated publicly that Lib Dems will go into the election with the aim of securing a place in government in coalition with either the Conservatives or Labour, arguing that the third party is in a position to temper the excesses of either of its larger rivals.
But the Telegraph's source suggested that Mr Cameron does not want a repeat of the power-sharing pact he sealed with Mr Clegg in 2010, telling the paper: "He's very clear he doesn't want another coalition. A promise in the manifesto not to do any deals after the election would make that very clear to voters and ensure they know exactly what the choice is at the election."
Conservative strategists believe that one of their party's key electoral assets is Mr Cameron's clear advantage over Labour's Ed Miliband in polls asking voters who they would prefer as prime minister.
Any manifesto promise not to go into coalition with another party is likely to sharpen voters' attention on the possibility that, if the Conservatives are not given a clear majority, the result could be a government led by Mr Miliband, either at the head of a Labour majority administration or in coalition with the Liberal Democrats.
However, electoral arithmetic works against the Conservatives, who need a significantly larger share of the vote than Labour to secure an overall majority in the House of Commons. Currently polling in the low 30s, the Tories would need to boost their share of the vote closer to 40% to hope to govern alone.
If Tories were the largest single party but did not win more than half of Commons seats, Mr Cameron may still have the option of attempting to lead a minority administration, which would be vulnerable to defeat on key elements of its policy agenda and which is likely to result in a second election within months of the May 2015 poll.