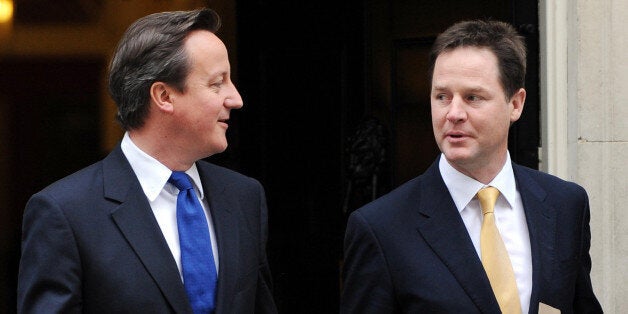 Reports that David Cameron plans to rule out forming another coalition after the next general election show that he is "desperate", the Liberal Democrat president has said.
On Tuesday, the Daily Telegraph quoted an unnamed "source close to the prime minister" as saying that Cameron would include the pledge in the next Conservative manifesto.
"He's very clear he doesn't want another coalition. A promise in the manifesto not to do any deals after the election would make that very clear to voters and ensure they know exactly what the choice is at the election," a source close to the prime minister told the paper.
The move would mean Cameron would attempt to form a minority government should the Tories fall short of a majority in 2015. The approach would be a high risk strategy, as it could hand power to a Lib Dem-Labour coalition in the event of another hung parliament.
A spokesperson for Tim Farron, the president of the Lib Dems, told the Huffington Post UK the make-up of the next government should be decided by voters at the polls.
"This just makes him seem desperate. I wonder if this pledge is another 'cast iron guarantee' from him? I think rather than political positioning and working to shore up his vote, he should get on with running the country. That is what Tim and his Liberal Democrat colleagues plan to do. We should leave future coalitions to the voters and see what electoral arithmetic they give us in 2015," the spokesperson said.
The reference to the "cast iron guarantee" is mocking reference to Cameron's unfulfilled 2009 promise to hold a referendum on the EU's Lisbon treaty.
Nick Clegg and the Lib Dem leadership have attempted to position their party equidistant between Labour and the Conservatives - indicating they would be prepared, if not eager, to enter into coalition with either party after the next election.
Any pledge to shun a second coalition with the Lib Dems would be likely to please Tory backbenchers frustrated at having to share power.
In the run-up to the 2010 election the fear they would not be able to secure led the Conservatives to warn a hung parliament would "paralyse" Britain and lead to "indecision and weak government".
The make-up of the electoral map works against the Conservatives, who need a significantly larger share of the vote than Labour to secure an overall majority in 2015.
If Tories were the largest single party but did not win more than half of Commons seats, Cameron may still have the option of attempting to lead a minority administration, which would be vulnerable to defeat on key elements of its policy agenda and which is likely to result in a second election within months of the May 2015 poll.