Harriet Harman says she has nothing to apologise for - and instead called on the Daily Mail to say sorry.
Labour's deputy leader has faced a string of front pages from the newspaper about the involvement of a civil rights organisation she used to work for with a paedophile rights campaign.
After expressing "regret" about the relationship between the National Council for Civil Liberties (NCCL) - where she was legal officer in the 1970s - and the Paedophile Information Exchange (PIE), Harman has gone on the offensive.
She asked her Twitter followers: "When it comes to decency and sexualisation of children, would you take lessons from the Daily Mail?"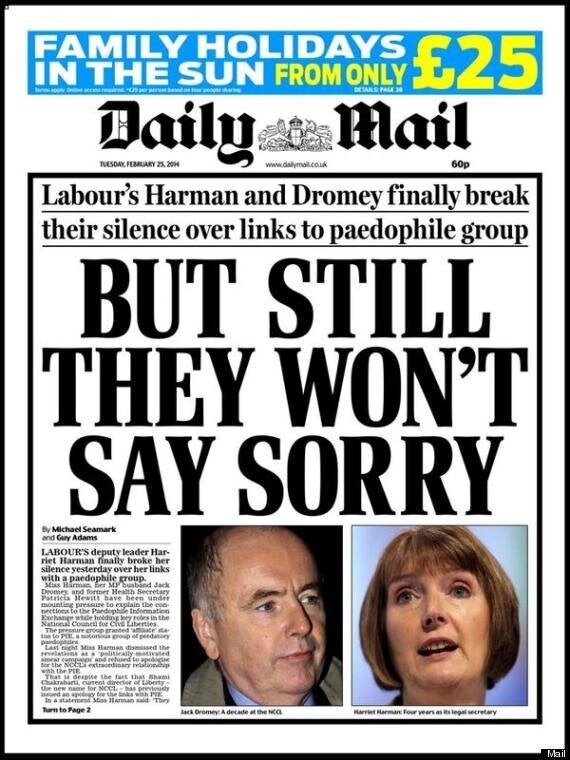 She called for an apology from the Daily Mail - which has highlighted links between PIE and the NCCL - for running what she described as a campaign of "smear and innuendo" against her.
The paper's consultant editor Andrew Pierce hit back, saying Ms Harman and her husband Jack Dromey - who was also prominent in the NCCL - should have done more to disassociate the civil rights body from PIE.
It followed a bruising interview last night on BBC2's Newsnight in which she repeatedly refused to say that it had been a "mistake" for the NCCL to have allowed PIE to become an affiliate member in the 1970s.
By today, she had returned to the airwaves to resume the offensive, insisting her work at the NCCL had not been in any way affected by the link with PIE.
"I'm not going to apologise because I've got nothing to apologise for," she said in pooled television interview with ITV News.
"I very much regret that this vile organisation, PIE, ever existed and that it ever had anything to do with NCCL, but it did not affect my work at NCCL.
"They had been pushed to the margins before I actually went to NCCL and to allege that I was involved in collusion with paedophilia or apologising for paedophilia is quite wrong and is a smear.
"It is actually not me that should be apologising for something that I haven't done. It is the Daily Mail that should be apologising for their smear and innuendo."
Pierce said that it was wrong to try to conflate images of girls that could be seen on "any British beach" with the "grotesque" activities of PIE.