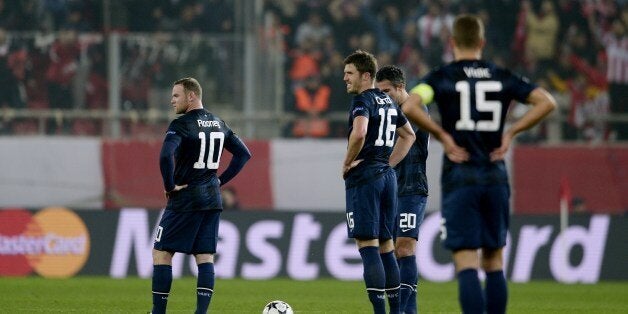 Manchester United's atrocious season continued with a humiliating 2-0 defeat at Olympiakos in what was their worst European away performance in nearly a decade.
United became the first of the Champions League teams playing away first to lose, as Alejandro Dominguez and Joel Campbell secured a famous victory for the Greek champions
The club face a mammoth task, even against a side as undistinguished as the Grecians, in three weeks' time if they are to make the Champions League quarter-finals.
Here are the talking points...
Sir Alex Ferguson was prone to pragmatism and negativity. There was the 0-0 in Marseille three years ago, the disheartening defeats to Lille and Benfica in 2005 and the 2004 stalemate in Prague in which Liam Miller's performance was the highlight. United, on the continent, scarcely entertained in the post-Treble years.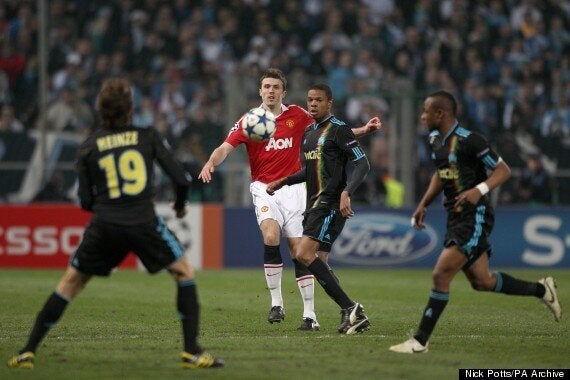 The Michael Carrick "masterclass" in Marseille: Forgettable
This is another record-breaking defeat for David Moyes, who has a remarkable knack for losing or drawing in ways which reflect originally, and astonishingly, badly on him.
United had never lost to a Greek opponent and played Olympiakos four times between 2001 and 2002. They won all four and scored 12 goals. United could not have been gifted an easier draw. Olympiakos even sold top scorer Konstantinos Mitroglou in January. Still, it wasn't enough. This was United's worst European defeat since their diabolical 2005 elimination in Lisbon, when the club was mired in crisis after crisis. It's much worse now.
Nani, despite having not played since 7 December, receives an extraordinary amount of flak for a player who would enliven this Manchester United side.
Young, at least, showed some gumption even if he had no effect, whereas Antonio Valencia, execrable for coming up to two years now, looked like he didn't even want to be there. Wilfried Zaha's attitude was questioned when he forgot to bring his club suit for the pre-season tour. It is a more forgivable offence than Valencia's crossing.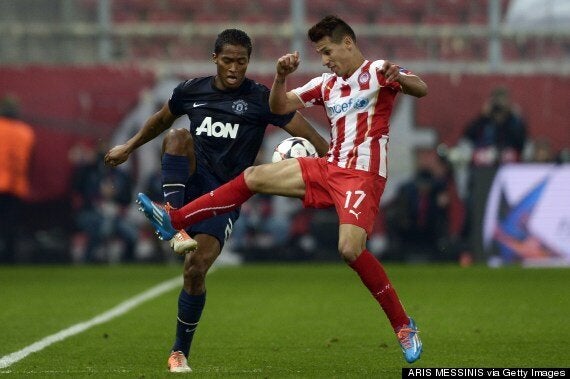 Woeful: Valencia should be sold by United in the summer
AMBASSADOR ROONEY, YOU DO SPOIL US WITH YOUR MEDIOCIRTY
Wayne Rooney's sliced volley at Crystal Palace was a convenient image for headline writers to commemorate his new contract extension. Even better, he had coins pelted at him by some Palace loons and collected one (not for himself). He earns more money than Lionel Messi, yet appeared to fulfil his ambassadorial role at least five years early.
His big game record is impressive but Rooney rarely dominates matches as imperiously as Messi or Cristiano Ronaldo.
United fans often claim they have no midfield and when Alejandro Dominguez made a dash from the halfway line into their area they literally had no midfield. Michael Carrick and Tom Cleverley are the antithesis of the Roy Keane-Paul Ince axis, and Cleverley's cowardice trotting alongside Dominguez might have made Keane, at the stadium working for ITV, vomit.
"My job goes under the radar at times," Cleverley said earlier this month. "I am not a player who's going to... go round tackling people like Roy Keane." He could at least try.
David Moyes set an ominous tone for the evening. "We want to try and get ourselves a goal," he told Gabriel Clarke. He likes to try.
Yesterday, Moyes said: "Everybody wants to win it and we'll try to do it," and "We're thinking about trying to win the game against Olympiacos."
Alan Myers, Everton's director of communications, was compelled to clarify the club were not "plucky", an adjective often used to describe them under Moyes. The Scot gave the impression (again) one of the biggest clubs in the world and the most successful English side in history were underdogs against the competition's worst side. It is not good enough and he is not good enough.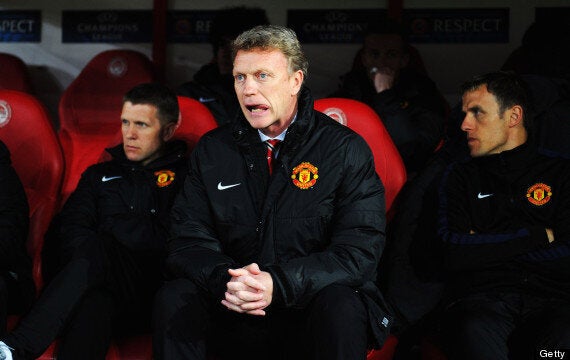 David Moyes: Likes to try, but will often fail
WHY NO JANUZAJ AND FELLAINI?
Even though he was poor at Crystal Palace on Saturday, Adnan Januzaj is United's best winger available, yet was omitted from the matchday squad in favour of Ryan Giggs, who showed his age at Selhurst Park. Fellaini enjoyed his best performance yet for United in south London and was rewarded with a demotion at the expense of Cleverley. With nothing to play for in the League, these were peculiar selections which predictably backfired at a team as laborious as Olympiakos. United lacked heart in midfield and confidence on the right wing in the Belgian pair's absences.