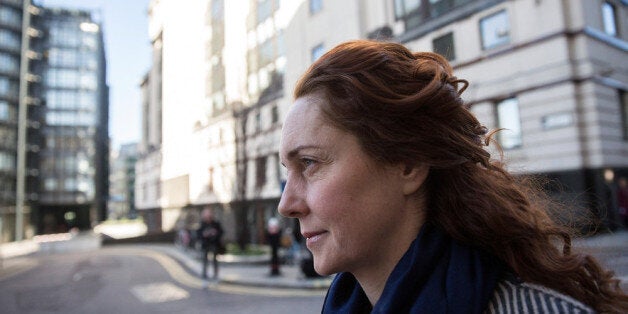 Rebekah Brooks has spoken of her "shock and horror" when she learned that murdered schoolgirl Milly Dowler's voicemails had been hacked by the News of the World while she was editor.
But the former News International chief executive revealed that she did not know when she was editing the Sunday newspaper that hacking was illegal, and if there was a strong enough public interest, she might have authorised it at the time.
Brooks, 45, returned to the witness box for the third day to deal with the story of the missing Surrey 13-year-old in 2002 which brought the Sunday tabloid down.
She told the court she knew nothing about the tasking of self-confessed phone hacker Glenn Mulcaire to access Milly's voicemails after she had been abducted, and she became aware of it only on July 4 2011.
Asked about her reaction when she found out, she said: "Shock, horror, everything.
"Just to put my reaction into any form of context, I was told that the NotW had asked someone to access Milly Dowler's phone while she was missing, that they had also deleted her voicemails and for a period of time because of that her parents had been given false hope and thought she was alive.
"I just think anyone would think that that was pretty abhorrent, so my reaction was that. That was what I was told."
Following Milly's disappearance on March 21 2002, the now-defunct tabloid covered the story. It later emerged that Milly's voicemails had been accessed between April 10 and 12 that year and it was alleged that the hacker deleted voicemails, giving false hope to Milly's parents.
Speaking about the allegations, she said: "Since all this and all the investigation, we now know that two of these things are not true. Nobody did delete voicemails and certain parts of the police knew voicemails had been accessed... police had actually told the Dowlers at the time. But still, the essential fact someone from the NotW had asked someone to do that, my reaction would be the same."
Brooks denies conspiring to hack phones, conspiring to commit misconduct in public office and conspiring to cover up evidence to pervert the course of justice.
She insisted she had never sanctioned phone hacking during her editorship of the NotW but, hypothetically, she might have done in the right circumstance and if there was a strong public interest.
She said: "If somebody had come to me with the right set of circumstances and asked me ... something to do with paedophiles, Roy Whiting... something along those lines... and had asked me with a good set of reasons, I may have done."
The court heard that Brooks shied away from offering a reward for information on Milly's disappearance because the focus at the time had been wrongly on her father.
Brooks said the Milly case initially chimed with Sarah Payne's disappearance because they had lived just streets away, but she acted on guidance from police and also took on criticism that the Sarah's Law campaign had focused on stranger abductions rather than the 70% involving people the victim knew.
In fact, Milly had been abducted and murdered by a predatory sex offender and her disappearance had nothing to do with her father, the court heard.
Milly's phone was most likely hacked between April 10 and 12, while Brooks was on holiday in Dubai, leaving her then-deputy Andy Coulson to edit the paper.
Brooks said: "I don't remember any discussion about the disappearance when I was away."
Asked by her lawyer Jonathan Laidlaw QC whether the tasking of Mulcaire to hack Milly's phone was brought to her attention while on holiday, she said: "Absolutely not."
"Or thereafter?" Mr Laidlaw asked, to which she replied "No".
And when he said "Before July 4 2011?", she again said "No".
Mr Laidlaw apologised for returning to "personal matters" as he asked what her relationship with her then husband Ross Kemp and deputy Coulson was like then.
"I think Ross and I were in a good place at the time," she replied.
Asked if she was "physically intimate" with co-defendant Coulson at the time, Brooks replied: "No."
Brooks told the court that no journalist or desk head had come to her and asked her to approve the use of phone hacking to get stories while she was at the helm of the tabloid between 2000 and 2003.
She said: "If you took my editorship of the News of the World at the time, I don't think anybody, me included, knew it was illegal.
"No one, no desk head, no journalist, ever came to me and said 'We're working on so-and-so a story but we need to access their voicemail' or asked my sanction to do it.
"It just didn't happen in the course of my editorship.
"Even though I didn't know it was illegal, I still would have felt that it was absolutely in the category of a serious breach of privacy."
She said under the terms of the Press Complaints Commission code of practice, hacking "certainly would have fallen into a serious breach of someone's privacy, particularly if you didn't have an overwhelming public interest reason for doing so".