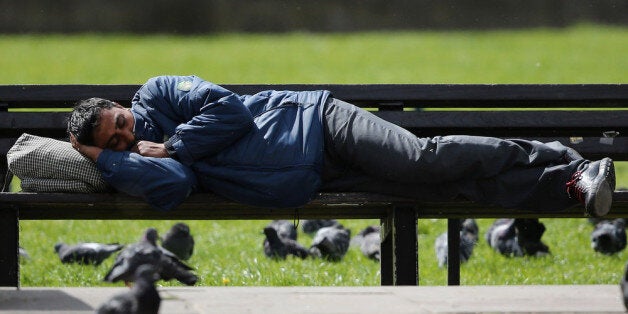 There has been a dramatic rise in the number of people sleeping rough in England since the coalition came to power, it has been revealed.
The grim news came courtesy of the government, which put the number on the streets at 2,414 in the autumn.
This was 105 more than the previous year and a 37% increase since 2010.
Campaigners and opposition politicians blamed government spending cuts.
Homeless charity Crisis said the rise was "unacceptable".
Chief executive Leslie Morphy, said: "Behind these statistics are more and more real lives being devastated by the traumatic experience of homelessness.
"The Government must take real steps to address the chronic lack of affordable housing and urgently consider the impact its cuts are having, particularly to housing benefit and local homelessness services
There was a small drop in the numbers in London, which accounts for a fifth of the total.
Labour said the rise was a "direct consequence" of Government policies and charities pointed to benefit cuts and demanded more help to prevent people becoming destitute.
Shadow housing minister Emma Reynolds said: "It is appalling that on David Cameron's watch the number of people sleeping rough has soared by more than a third.
"The Prime Minister once said homelessness and rough sleeping were a disgrace. But warm words are cold comfort to those sleeping rough if you fail to act.
"The Government was warned its policies risked increasing homelessness and rough sleeping but these warnings fell on
"What we are seeing now are the direct consequences of David Cameron's failure."
Rick Henderson, chief executive of umbrella body Homeless Link, urged ministers to take notice of the "clear warning sign" of the consequences of reducing housing-related support.
He said the problem was partly being "contained" by many town halls protecting homelessness services from severe local government funding cuts - and that rough sleepers were getting help more quickly.
But the numbers in Derby had nearly doubled after it "slashed" funding, he said.
"There are many issues, such as welfare reform, that could lead to further rises in rough sleeping," Henderson cautioned.
"This should serve as a clear warning sign that cutting funding for housing-related support now will have a serious impact in the future."
Charles Fraser, chief executive of the St Mungo's charity, said: "It is deeply depressing that we are seeing yet another rise in rough sleeping.
"A tragic amount of people have been let down before having to face the misery of sleeping on our streets.
"Our clients tell us they don't know how to find help, or it's not available when they ask. That is the time to stop homelessness, before it starts."
Housing Minister Kris Hopkins said: "For years, the national figure on the numbers of rough sleepers failed to reflect the true situation on our streets – we've changed that so every council now has to report the scale of the problem in their area.
"We've also introduced the No Second Night Out initiative, which actively seeks to find and help hidden rough sleepers and means that 70 per cent of rough sleepers spend no more than one night on the streets.
"And with the majority of rough sleepers in London being foreign nationals, we've ensured European nationals sleeping on our streets are removed, and we've toughened the immigration rules."