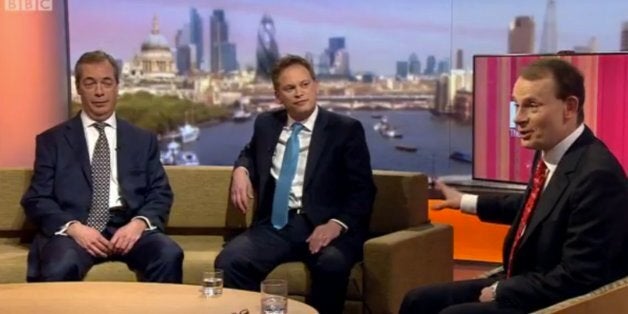 Ukip leader Nigel Farage and Tory chairman Grant Shapps clashed in spectacular style on the BBC's Andrew Marr show, both accusing each other of being out-of-touch with issues.
Responding to Marr's question asking if the two parties were "brothers under the skin, Farage said: "Ukip is not a splinter of the Conservative party. The vast majority of our members have never been members of the Conservative party. Most of them have never even voted Conservative."
But they should, Shapps argued, because "Ukip can't actually deliver any of this change."
"The only change he is likely to deliver is Ed Miliband closer to Downing Street," he said.
"What Liam Fox and others are saying today is baloney. Only a third of our vote comes from the Conservatives and when you poll Ukip voters and say, 'if there was no Ukip candidate, how would you vote?', less than one in five of them would even consider voting for the Conservatives," Farage said.
"The reasons the Tories won't win a majority at the next general election is not because of Europe, it's because their own voters don't see David Cameron as a Conservative."
Sitting next to an uncomfortable looking Shapps on a sofa that definitely did not look big enough for the both of them, Farage said that "of course" he would do a deal with the Conservatives if they offered a referendum on Europe, were Ukip to win seats in the next Parliament. "But Labour will match this pledge."
"But you can't actually deliver the immigration, welfare reform or referendum you promise," Shapps insisted. "You just make it easier for Ed Miliband to walk into Downing Street and do exactly the opposite to those things."
"You don't understand basic arithmetic," Farage fired back.
"The numbers suggest that is simply not true. They say that in marginal seats, even when there isn't a Ukip candidate, you are still losing those seats. 40% of your votes have gone."
Sensing a lengthy debate, the BBC presenter jumped in. "Can I stop you? This is called the Andrew Marr show after all."