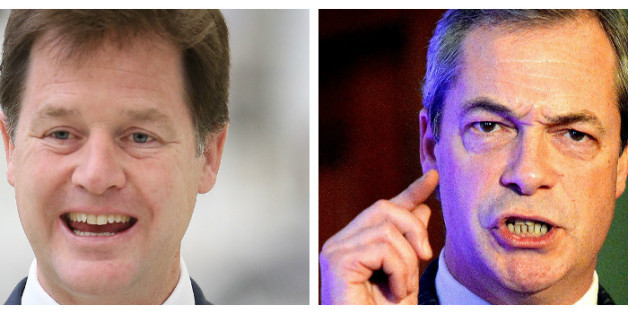 With a live debate about Europe on the forthcoming TV schedules, Nick Clegg is set to ramp up the pressure on his opponent Nigel Farage by accusing the Ukip leader of pocketing his MEP's salary without bothering to vote.
Speaking at Centre for European Reform think-tank on Wednesday, Clegg is expected to lambast Farage for spreading "myths" about the benefits of an isolationist position on Europe.
And with the European Elections due to be held in May, a vote on which Farage has staked his continuing leadership of Ukip, Clegg will look to undercut the popularity of the far-right party, while regaining some of the credibility he amassed from his previous TV debates before the last general election.
TOP STORIES TODAY
Clegg will say: "Where the EU has become intrusive, it needs to be pushed back… We want to keep the UK opted out of rules we believe are damaging, like the 48-hour cap on the working week in the Working Time Directive.
"Working with our allies, the UK is already taking action to cut excessive EU red tape, saving thousands of pounds for thousands of small business across Britain."
On Farage, the Deputy Prime Minister will attack the Ukip chief's voting record, saying: "Nigel Farage and deputy leader Paul Nuttall rarely turn up to vote in the European Parliament, despite being happy to take their tax-payer-funded salaries.
"Ukip MEPs refuse to roll up their sleeves and get down to work. Nigel Farage hasn't tabled a single amendment to EU legislation since July 2009."
The Lib Dem leader will also accuse Farage of "failing to stand up for" important issues for Britons, such as mobile phone roaming regulations, which would have cut costs for holidaymakers abroad.
On Wednesday Farage said Ukip's policy of engaging "sufficiently" with the EU to provoke debate had proved successful - and claimed his voting record was more than twice as good as Mr Clegg's at Westminster.
"Our objective as MEPs is not to keep voting endlessly for more EU legislation and to take power away from Westminster," he told BBC Radio 4's Today.
"Our view in 15 years has been that we engage sufficiently here and we use that information to get a debate going back in the United Kingdom.
"It seems to me, given the debate we are now having on the European Union, that the Ukip policy has been pretty successful."
Defending his and Mr Nuttall's record, he said: "Both our voting records are about 50% but we are leader and deputy leader of a national party in the United Kingdom.
"Nick Clegg himself, who actually lives in London, has only himself voted in 22% of votes in this Parliament.
"I am the president of a group in the European Parliament. We have put down hundreds of amendments since 2009 so factually Nick Clegg is quite wrong."
He said: "I am sorry Mr Clegg, but I don't think more legislation, more power to the institutions of Brussels, is good for British jobs or good for the British economy.
"I think we would be far better off making our own laws."