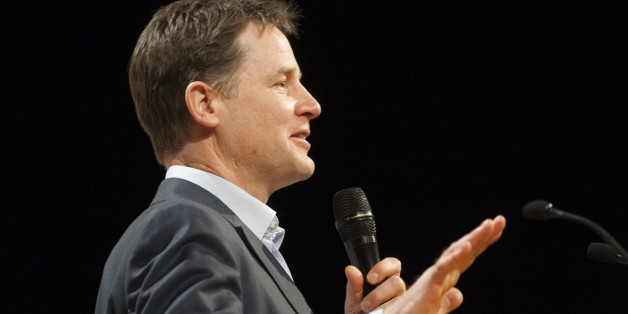 Tim Goode/EMPICS Entertainment
Nick Clegg has warned against any move to reduce the pressure on TV licence- dodgers after Tory ministers signalled interest in decriminalising non-payment.
Culture Secretary Maria Miller said a proposal backed by more than 100 MPs to make it a civil offence was an "interesting" idea which could form part of negotiations over the renewal of the BBC charter.
The switch, which would remove the threat of a criminal record and the potential of a jail term for not paying the £1,000 fine, is also being examined closely by Justice Secretary Chris Grayling.
He said officials were engaged in "serious work" on the reform amid concerns over the burden on the criminal justice system - with magistrates hearing more than 180,000 cases last year.
Tory MP Andrew Bridgen, who has tabled a Commons amendment to make the change which has significant cross-party support, believes the present law is criminalising people "for being poor".
The Deputy Prime Minister sounded a far more cautious note than his Coalition colleagues however, pointing to BBC warnings that services would suffer if people felt less pressure to pay.
"We will look at it but I think you need to be aware that if you have a 1% drop in the payment of the licence fee, that would lose you money which at the moment would cover the money for 10 local radio stations," he said as he attended the Liberal Democrat spring conference in York.
"It's important that people do pay their licence fee and I don't want to see any relaxation of that because I'm a great fan of the BBC.
"I think a lot of people rely on the BBC locally and nationally for their news and for a lot else besides.
"So we will look at it but I think it's important that we don't in any way lessen the signal that people should pay their licence fee."
Cases of people accused of evading the £145.50 fee accounted for in excess of one in 10 of all criminal prosecutions last year - with 155,000 convicted and fined.
Mr Bridgen is seeking to amend the Government's Deregulation Bill in order to remove the criminal offence and make it a civil matter, with the fine set by government.
"It is outrageous that so many people are brought in to the criminal justice system through this means," he told the Daily Telegraph.
"I believe that non-payment should be treated in the way that parking tickets are. It is absurd that the courts are being clogged up by such a minor offence."
Mrs Miller said: "This is an interesting idea but timing is crucial and decriminalisation of the licence fee should be on the table during charter review, not separate to the process."
A spokesman said it would help "focus the BBC's minds" on Mrs Miller's demands that the broadcaster "get its house in order, particularly when it comes to governance and transparency".
Mr Grayling said: "The Culture Secretary and I both agree that this is a really interesting idea - particularly given the pressure on our courts system.
"Our departments will be doing some serious work on the proposal."
A BBC Trust spokeswoman said: "While legislation is a matter for the Government, in the Trust's view this is clearly an issue that should be discussed in the round, including the potential impact on licence fee income and BBC output, as part of Charter review, and not before or separate to that process."