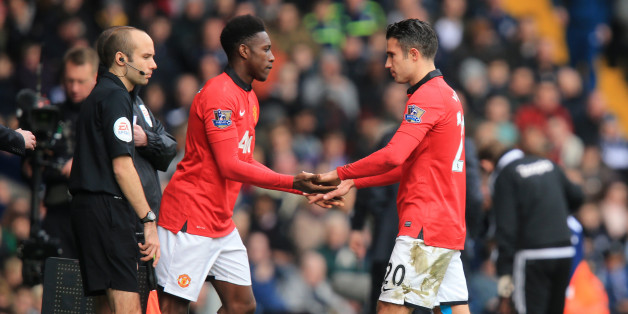 Mike Egerton/EMPICS Sport
Ruud van Nistelrooy's death knell at Manchester United came a week before he called Sir Alex Ferguson a ****. Ferguson never specified exactly what it was Van Nistelrooy called him on the bench during United's stroll against Wigan in the 2006 League Cup final, but the antipathy was mutual. Ferguson was apoplectic Van Nistelrooy had abandoned his chase of a loose ball, with United 1-0 down, at Liverpool in their FA Cup 5th round loss eight days earlier.
Louis Saha started in Van Nistelrooy's absence against Wigan, having scored five in the four games he featured in United's run to the Millennium Stadium final. Saha scored in Cardiff, too, and Van Nistelrooy, warming up behind the goal, was one of the first to congratulate him. Then Kieran Richardson, Nemanja Vidić and Patrice Evra were introduced ahead of the now enraged Dutchman, who abandoned his half-hearted celebrations as United paraded the trophy after their win.
Van Nistelrooy started just four more times for the club, as Ferguson allowed the Saha-Wayne Rooney axis to blossom, before he was sold to Real Madrid. United trailed Chelsea by 18 points with just 12 games remaining, and with little to play for in the Premier League, Saha and Rooney was a felicitous matrimony for Ferguson. United won seven consecutive matches and reduced the deficit to only six points.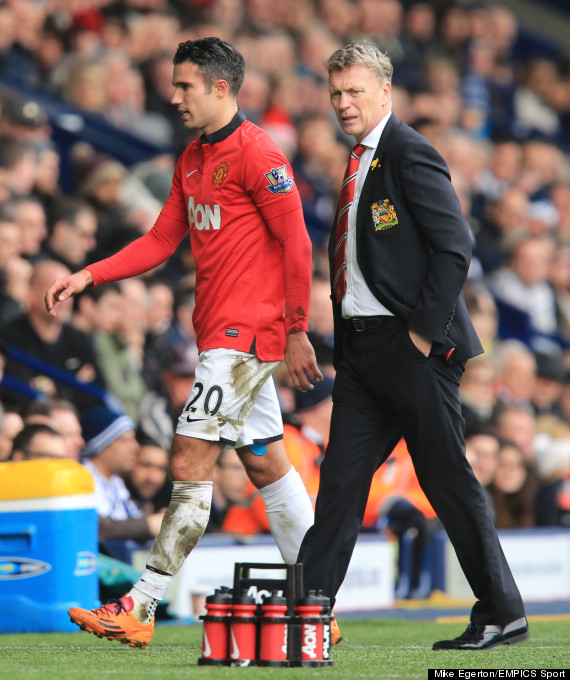 Van Persie was substituted after 63 minutes at West Brom
Eight years on, another Dutchman finds himself in a similar situation to Van Nistelrooy. Robin van Persie's Old Trafford career, like Van Nistelrooy's, began with a debut League goal versus Fulham and a maiden United hat-trick against Southampton, but could end in similarly sulky circumstances as an understudy usurps him.
Danny Welbeck didn't start in England or United's wins but has seldom enjoyed a better week. England improved markedly after he replaced Wayne Rooney on Wednesday and United's swagger returned when the Longsight lad came on for Van Persie on Saturday. Denied by Kasper Schmeichel at Wembley, he finished a memorable free-flowing move at the Hawthorns with conviction for his 10th United goal this term.
Welbeck enjoyed a fruitful spell over Christmas and the new year with six goals in nine games and is, according to David Moyes, "beginning to look a bit more lively in training". He should edge past his season-best haul of 12 goals in 2011-12.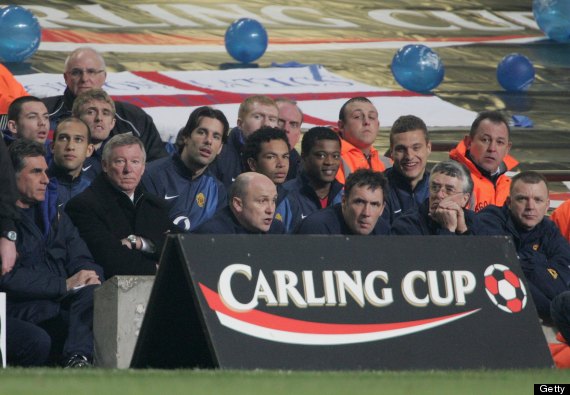 Van Nistelrooy "burned his boats" after he insulted Ferguson in Cardiff in 2006
That was when he was a regular alongside Rooney and when Gary Neville likened their combination in the demoralising 4-4 draw against Everton to Dwight Yorke and Andy Cole's telepathy. Rooney struck 34 goals that campaign - his joint best - and his potency following Welbeck's arrival at the weekend was near-immediate, as he headed in Rafael da Silva's fine cross. Welbeck could knock Robin off his perch.
Rooney's £85 million contract renewal has given United an expensive problem, both financially and professionally, in that Moyes now has at least half-a-dozen players who could play as a No.10, only Rooney has proven his best position is up front. It is not the role he was destined to flourish in, but his best season came as a lone striker and moving him forward would accommodate Juan Mata as the playmaker.
Dutchmen are prone to moodiness and, in Van Persie's case, it is somewhat understandable. Ferguson said in his book he told Van Persie he had no plans to retire when he brought him to United 19 months ago and, under Moyes, Van Persie has been sceptical of the training, become injury-prone again, played when unfit and complained about the tactics. Louis van Gaal and Ronald de Boer, two of his Dutch mouthpieces, have stressed he isn't enjoying his second season at United. It only took laziness from Van Nistelrooy to see him demoted.
Although it was barely half-an-hour on Saturday, United sans Van Persie had not looked so jaunty since their quick-fire demolition of Fulham in November (when Van Persie played). Welbeck resembled Bambi on ice whenever he ventured into the final third last season and has often been the victim of Ferguson and Moyes' tinkering. It was obvious when United lost to Leeds in the FA Cup four years ago he was as averse to the left wing as a UKIP voter.
His impact as a substitute should earn Van Persie a reprieve, for now, though. Liverpool and Olympiakos arrive at Old Trafford in the next 10 days and while there is an argument to drop Van Persie or Rooney, it seems too bold a statement to make for Moyes, who decided against substituting Van Persie in the December defeat to Newcastle out of fear the crowd might turn on him.
"I knew we would never get him back," Ferguson said of Van Nistelrooy's insult. "He'd burned his boats. After that incident, his behaviour became worse and worse." Moyes can ill-afford another mutineer.